Bentley's seen eights come and go; the 8-litre coach of 1930, the cloth-seated Eight "training Bentley" of the 1980s, the Le Mans-winning Speed 8 prototype of 2003. Two of those even had V8 engines, like the new Continental GT V8. Can the more-fuel-efficient octomill match the mighty W12? Let's find out.
Full Disclosure: Bentley wanted me to drive the new Continental GT V8 so bad, they picked me up in front of a trendy NYC hotel, whisked me off to a morning track session at Monticello Motor Club in upstate New York, then gave me a GT V8 to take home for a split-personality weekend of highway pulls and hypermiling. Sybil Dorsett, call the front desk.
Buying a 12 cylinder is, by far, the most exclusory act of car ownership. In the U.S., new twelves start in the hedge-fund-o-sphere — $137,300 (for the BMW 760i) — and although Camry money will buy an older 12-pot Jag, Bimmer or Benz, keeping such needy bastards fed and clothed is best left to the rich or wrenchy. Either way, the 12-cylinder owner belongs to an exclusive League, populated to the rafters with Extraordinary Gentlemen.
Such has been Bentley's gambit regarding the Continental — it's the gentleman's exotic. Continentals are so tightly associated with Volkswagen Group's butter-smooth, twin-turbocharged W12, the very idea of an eight-zylinder version suggests government mandates enforced by helicopter gunship. But such are the times in which we live — strange times in which the fuel economy of a Bentley is something to consider with a straight face.
G/O Media may get a commission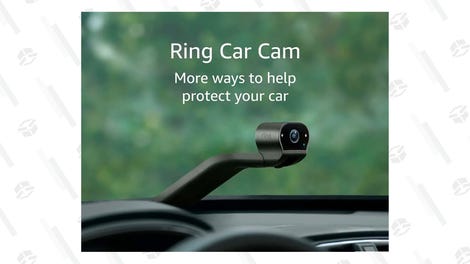 Here I am eking out a solid 22 mpg average, according to the GT V8's dash screen. On the interstate ride back from Monticello, I'd set the active cruise control to 65 mph (which, in the Continental, feels like being stuck behind a mule team), and took a nap. No, not really. But damned if that number, and far better on flat stretches, persisted despite upping the cruise to 75. Hypermiling in a Bentley? More like kicking in the teeth of a Cato Institute counter-conservationist scholar.
Thanks be to a tall eighth gear, cylinder deactivation — the V8 cuts four cylinders at cruising speeds — and other tweaks, which by increment add up to a 40% improvement in fuel economy over the W12.
Bored practically to tears, I plant my sneaker. The ZF box kicks down five gears at once, the twin-turbocharged, 4.0-liter V8 emits a sonic boom and we're out. Mwahahaha! Eat my dust, plebes!
Yes, it's a Bentley, just as thrusty and embracing of weight and density as its W12 sibling. Like the W12, the GT V8 is a heavy car that can do things other heavy cars can't. Like Fatty Arbuckle or the late, great Heavy D, it makes no apology for its bulk; rather, its weight is a primary characteristic — like a fin de siècle bank's fortress-thick walls. Since the GT's ponderousness is a core competency, it's well served by engineering decisions that come after the fact.
The GT V8 is the second most dynamically adept Continental, after the $300,000 Supersports. It must be driven with awareness of its size and weight, but if it's not overdriven into a corner, it can do great things — and correcting a line is much cleaner a proposition than it was in Continental GT's of the past. And the new engine is so good, with torque for days, there's no reason to sweat the W12. The only sacrifice, perhaps, is a good table at the Gentlemen Archeologists's Club, which exists only in your mind.
The Continental GT's exterior design tweaks, squaring off of the GT's rounded edges, introduced in 2010 have worn well, though the design remains a vexing combination of beautiful and awkward angles — a postmodern take on a late-60s muscle coupe. Regarding the new engine, the GT V8's visual cues are neither self-conscious nor boastful; it merely wears clever, in-the-know signifiers — like the ones bourgeois suburbanites have used for decades to tell each other apart (like Nantucket-airport-code stickers). If you hadn't noticed, the tailpipes form dual figures of eight. Sneaky.

INTERIOR (9/10)
GT V8 buyers don't get the full range of customization options offered to W12 buyers, but rather get a smaller pallette of options. Still, the standard and optional interior design and materials choices are tasteful, with a model-specific dark-wood trim of Fiddleback Eucalyptus — whose rollover curl pattern makes it look almost three-dimensional — and the metallic hardware feels weighty and important. You get what you pay for, and here's where you both pay and get.

ACCELERATION (8/10)
Ka-boom, goes the direct-injection V8 with the twin-scroll turbos. With 17 psi of available boost and a torque curve that's table-flat at 487 lb-ft from 1,700 rpm all the way to five grand, the GT V8 pulls and pulls and pulls. Bentley says it can get from 0-60 in 4.6 seconds — quite sprightly indeed for a 5,059-lb car — and its midrange acceleration is like riding the Banzai Pipeline atop a JATO rocket. The V8 was co-developed with Audi, which uses an altered version in the S8.


BRAKING (9/10)
Major anchors on this ship! The diameter of its front rotors is an inch larger than the wheels on my old '83 Mazda 626 — 15.9" in the front, with eight pistons' worth of clamping (13.1" in the rear). The feel is immediate without being grabby. Carbon brakes (16.5" front / 14.0" rear) are optional, and offer 44lb weight savings.


RIDE (8/10)
Like the W12 Continental, the GT V8 feels battleship solid. Think about the ride quality as an iron fist in a velvet glove — cush without feeling cushy. It's all about low frequencies — everything happens at the stomach-pit level. The engineering brief covering all the GT's modulation management tech could fill the Los Angeles County phone book.
Engine: 4.0-liter, twin-turbocharged V8 w/cylinder deactivation
Power: 500 HP @ 6,000 rpm / 487 LB-FT @ 1,700 rpm
Transmission: 8-Speed automatic
0-60 Time: 4.6
Top Speed: 188
Drivetrain: All-Wheel Drive
Curb Weight: 5,059
Seating: 4
MPG: 10.5 City / 27 HWY
MSRP: $208,650 (as tested)
HANDLING (8/10)
Like other, later-day Continental GTs — the GT Speed and Supersports — the GT V8 feels heavy without being ponderous and unwieldy. While the GT V8 would still be a poor choice for gymkhana, the GT V8's accurate and decently-communicative steering and neutral feel allow for easy mid-corner push corrections in overcooked turns. A benefit of the V8 is 55 fewer pounds on the front axle, which improved the Continental's weight balance — to 51:49. The new model's torque split's been slightly biased to the rear, with 60% available to the rear wheels.


GEARBOX (8/10)
The eight-speed ZF box (hey, another eight!) helps out with fuel economy, though in sport mode it can kick down from a cruise in eighth to initiate a rocket-thrust pass in third without stopping midway to ask directions. It's also responsible for a 6% improvement in fuel economy. In sport mode, it shifts quickly. But let's face it; with all that torque everywhere, it doesn't have a lot to do to keep that engine in its sweet spot.


AUDIO (9/10)
What's a luxury carmaker without an audiophile-quality audio partner? Bentley contracts with Britain's Naim, which sound geeks know for its mind-bogglingly crisp, $4,000 NaimUniti all-in-one CD player/receiver unit. Our GT V8 tester had the optional Naim system — which includes 11 speakers and digital processing that 'virtually' alters their position, and 1,100 watts of power. It's so good you can hear the sweat droplets off Maurizio Pollini's wrist hit the piano bench during Chopin's "Nocturne no. 8." The down side? The optional Naim unit costs more than seven grand — as much as a well-preserved E36 M3.
Also, the engine note is subdued, but with so much bass, it sounds like it's got subwoofers for pistons.
TOYS (6/10)
I'm not sure if there's a mathematical Curve of Diminishing Apps, but someone should work that equation out. After $100,000, the density of electronic gewgaws drops off rapidly, and the Bentley has only the essentials — hands-free phone, iPod/iPhone hookup, 30GB hard drive for digital music storage, satellite radio. Want to listen to your stupid Spotify playlists, or start the engine with your Android phone from six towns away? Want to order a pizza in Cleveland from the US-191 in Idaho Falls? Find the nearest showing of Savages in 4D? Call your goddamn assistant.


VALUE (7/10)
Bentley is positioning the GT V8 as a more youthful, aggressive model to draw first-time Bentley buyers away from a range of competitors, from the Aston Martin DB9 to the Maserati GranTurismo to its Audi R8 cousin. The price is 10 percent less than the V12 model, which isn't a whole lot, though going easy on the options — holding to standard paint and wheels, giving up the $3,800 convenience package — that is, the rear-view-camera, adaptive cruise control and valet key — and $1,800 for interior contrast stitching, and forgoing the Naim audio — might get you into one for under $175,000. For that money, you'll still get the experience of tooling around town in a car that drives like it was built to smash through the Mannerheim Line without spilling your martini.
80/100
EXTERIOR (8/10)
INTERIOR (9/10)
ACCELERATION (8/10)
BRAKING (9/10)
RIDE (8/10)
HANDLING (8/10)
GEARBOX (8/10)
AUDIO (9/10)
TOYS (6/10)
VALUE (7/10)