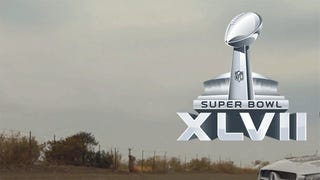 Next weekend is the biggest advertising event of the year: the Super Bowl. The entire nation will gather around their televisions, split roughly between people watching for the game and people watching for the commercials.
But now you don't even have to watch the big game to know what the commercials will be. Companies are putting out commercials early or, even worse, teasers for ads that are longer than the ads themselves. They're also sending out kits to journalists that hint at their commercials.
That's where I have a problem.
In the past, part of the fun of watching the Super Bowl for non-football fans, other than gorging on chicken wings, was checking out the brand new commercials that were making their premiere. The surprise was part of the fun. As a non-football fan myself, I looked forward to the ad breaks so I didn't have to pretend like I cared what Wes Welker did, or what a Wes Welker is.
All that's changed now that ads have gone from incredibly expensive to small-country-GDP insane.
Corporations, and especially automakers, need to make their multi-million dollar investment worthwhile. That means they've taken to making ads for their ads so we'll tune in for their ads. These ads are designed to prep us for the real ads and are two or three times longer than the commercial they're prepping us for.
Sometimes they release the ad ahead of time on YouTube. And in order to watch that ad on YouTube, you'll probably have to watch another ad before that ad. Selling ads for ads. It's a crazy world we live in.
Last year, Honda tried to convince everyone that an all-new Ferris Bueller movie was going to be released. If only that were the case. The buzz was all for the brand new CRV. It was dishonest, although the build up to the commercial was actually far better than the commercial itself, which I found super boring.