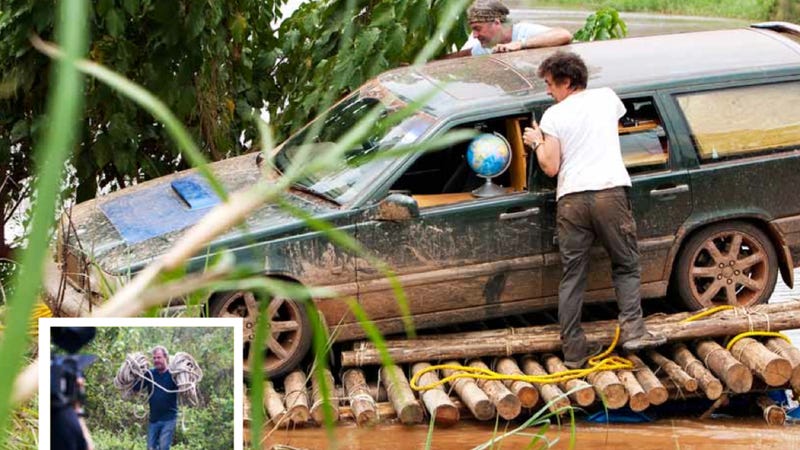 Jalopnik this morning has learned from insiders how Top Gear's upcoming 19th season is set to go down, and we can tell you that it is loaded with tests of some of our favorite cars, crazy exploration missions, car rugby, supercar adventures in the U.S., and wagons galore.
In fact, I'll go out on a limb and say that this season of the world's favorite motoring show (that doesn't feature John Davis, obviously) looks to be one of the very best yet.
Here are some of the highlights, care of a recent article in Top Gear Magazine and other information provided by the BBC. Warning, spoilers ahead!
Acknowledging that the India Special wasn't quite as spicy as it could have been, Jeremy, Richard and James will venture to Africa in search of the source of the Nile, just like the British explorers of yore. Only they'll be doing it in some fantastic used wagons they bought online for £1,500: a BMW 5-Series Touring, a Volvo 850 T5-R, and a Subaru WRX with a toilet seat for a hood scoop.
Jeremy commissions students taking Coventry University automotive design to make him a car that's even smaller than the Peel P50 he drove a few years ago. That's how he ends up trapped in a scooter-looking thing.
"Consumer Affairs Editor" James attempts to turn a Bentley Continental GT into a rally car, and they say that the way the two-ton luxobeast handles on a muddy stage "may surprise you." Hmmm...

The guys will be participating in another U.S. road trip (but you already knew that), this time driving from the Nevada desert to the Mexican border in the new SRT Viper, the Lexus LFA, and an Aston Martin Vanquish.
Another Big Race like the famous Bugatti Veyron vs. James' plane episode from a while back. This time, they'll be racing from Wembley to Milan to catch a soccer match with Jeremy in a Shelby Mustang GT500 and the other guys in a train. Glad to see so much American car love this season!

Richard and Jeremy redesign a Fiat Multipla to make it into the ultimate car for old people. (Not just the ultimate car for people with poor taste.)

Remember car football? It's back, except this time it's car rugby. I can't wait to see how this will go down, and then try it myself, and then get arrested. Again.
Road tests of the Toyota GT86 and Pagani Huayra, and a hot hatch battle between the Ford Focus ST, Renault Megane RenaultSport Cup 265, and Vauxhall Astra VXR. Which FWD street fighter will come out on top?

All this and more once the new season starts on Jan. 27. What are you most excited about?

Photos credit BBC/Top Gear Magazine