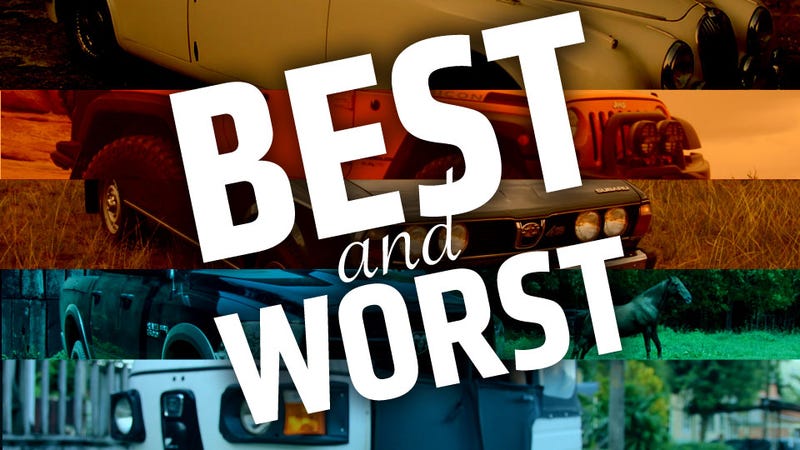 This being my first season on the Jalopnik staff, I've had the unique power to finagle my way behind the tillers of a wider array of interesting cars than I ever thought possible.
I've always been pretty good at convincing people to let me pilot and/or borrow their cars — just ask Matt Hardigree, every time he sees me, I'm driving a different borrowed ride (It's true, Ben is remarkably charming — Matt) — but my credential as a chronicler of the automotively offbeat has given me an almost unfair advantage that I didn't have before.
Not being one of Jalopnik's more active new model reviewers, I have nonetheless settled quite comfortably into my role as a tester of things old and strange, which, honestly, is just fine with me.
Here's the best and the worst of the driving experiences I managed to contrive this year. A couple are new, and some impossibly old and so weird most of us would never imagine driving such things, but in a world where the most boring new cars are perennial bestsellers, I take heart that such variety still exists.
Photo credit: Benjamin Preston
Best: 1968 Jaguar 240
I've driven a lot of cars during my relatively short 34-year lifespan. Everything from a Porsche 911 to a '68 Mustang, and everything in between: jacked up pickup trucks, Volvos, BMWs, an old Mercedes, an Infiniti G35, and even a Fiat X19. But nothing, and I mean nothing gave me quite the sort of feeling I got when piloting a 1968 Jaguar 240 from the right-hand seat with sunshine pouring in through its massive ragtop sunroof.