Ask any young boy to name their coolest car, they'll likely pick a Jeep or a truck. There's just something about both that hit all the right Cro-Magnon hot spots in any pre-pubescent boy's mind. But merge them together? Well, then you get possibly the greatest combination of utilitarianism and awesomeness in the world. Jeep's new Gladiator-inspired pickup concept — dubbed the J12 — is just such a machine. And I drove it in it's off-roading debut at the Easter Jeep Safari in Moab, Utah earlier this week.
Cue the Tim Allen guttural man-noises.
Full-size Jeep pickups or Jeep Wrangler pickups disappeared from Detroit's lineup after 1988, but the Chrysler-owned division's history-minded design team seems intent on bringing it back in classic form. Pricey JK8 Wrangler-to-pickup conversion kits directly from Jeep have been around since last year's Safari (and AEV's been building the amazing Brute conversion kit for years), but this week marked the eye-catching, bright red J12's first public foray onto some of the nation's more noteworthy trails.
True masters of the past, Jeep's design team said they wanted to create something that looked like that old truck your grandpa took fishing all the time. The old Kaiser facade is familiar and likeable, and by lovingly recreating the long-departed truck's facial details, Jeep had scores of people fawning over their concept truck at the 2012 Easter Jeep Safari this week.
G/O Media may get a commission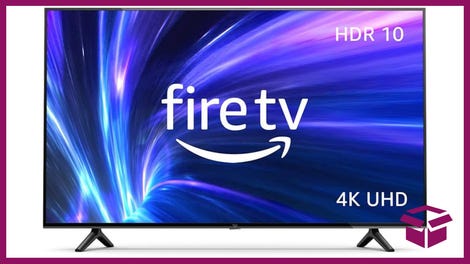 42% Off
Amazon Fire TV 50" 4K Smart TV
Because never mind the kids — what old guy wouldn't want to drive a truck with a plaid-edged white bench seat, body colored lower dash, and practical rhino-lined floor pans? It turns out that a lot of not-so-old guys have the same taste, if the group of visibly salivating fans clustering around the J12 everywhere it went was any indication. It turned heads wherever it went around Moab's extreme Jeep-packed streets, looking like something Clint Eastwood's character, Walt Kowalski, in Grand Torino would have been comfortable driving (a big part of what makes it so cool).
Like the JK8 conversion, it shares a chassis with the four door Rubicon, and also like the JK8, it has a small single cab up front and a utility box out back. But the similarities end there. Jeep's designers lengthened the J12's frame by 18 inches to accommodate a spare 36-inch tire and a six-foot bed. Attending to every detail, they managed to pull off an authentic "old truck" feel by keeping its interior spare and uncluttered. Sitting inside the truck, the most visible reminder that it didn't come from a 1960s-era Kaiser factory is the floor-mounted automatic transmission shifter (which, because it's topped by a ball compass, can perhaps be forgiven by history buffs). The shifter base looked a bit out of place, making me wonder how difficult it would be to make a column-mounted shifter work for a 5-speed manual transmission.
Mechanically, the J12 is the same as any Rubicon, with the addition of front and rear ARB lockers to its Dynatrac D-44 and D-60 axles. The Pentastar 3.6 liter V6 pulls the little truck capably on any terrain, the only limiting factor for offroad performance being the front and rear overhangs inherent in any pickup truck of normal dimensions (which, clearly, excludes the Hobbit-like JK8).
Retro tall 36-inch tires fitted with chunky mud treads are large, but not so huge as to make the J12 look silly (old Walt just wouldn't have it). As with any detachable sway bar-equipped Rubicon, the J12 made short work of everything it encountered out on the trails outside Moab.
With its low backed bench seat and lack of side marker lights, the little Gladiator progeny wouldn't make the NHTSA cut, but there are undoubtedly many — truck enthusiasts and regular guys alike — who would like to see it become a viable market offering.
The Walt Kowalskis of the world have watched a lot of candy-assed, frou-frou-fitted pickup passoffs saunter by their austere porches over the past few decades. They're waiting with disgusted, squinty-eyed forbearance for a bare bones classic like the J12 to bring dignity back to the pickup world. Although maybe not in bright red.