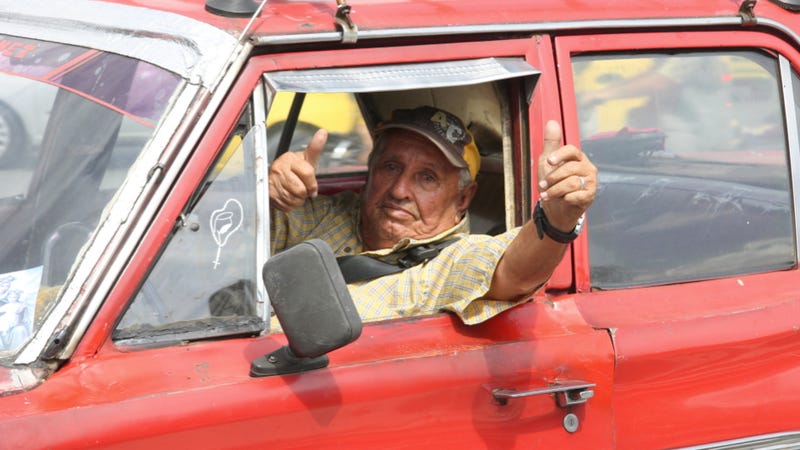 When I was on my way to Colombia this summer, a majority of the people I told where I was headed responded with, "Isn't that place dangerous?" Of course it's dangerous, but so is Southern California. You could get run over by one of the Governator's Hummers. The world, for that matter, is a dangerous place.
But there's a reason why the Colombia tourism ministry's tag line of late has been "Colombia, the only risk is wanting to stay." True story. I went there, and was never mugged or kidnapped by a drug cartel or leftist jungle brigade. At the end of the trip, I did kind of feel like staying there. The people are friendly, the weather is nice, the landscapes there are stunning, and most stuff is cheaper than it is in the U.S.
(Full disclosure: My girlfriend's mother is a Paisa — she grew up in Medellín, Colombia. That was a prime motivator for me wanting to visit. It also meant that while I was in Medellín, surrounded by my girlfriend's six aunts, I ate enough food to feed a family of six for at least eight months. So if it sounds like I'm a bit biased, it's because her family went out of their way to make sure that I was.)
You won't see very many American tourists in Colombia. Maybe it's part of some guilt complex associated with the fact that Americans hoover up more coke than anyone else in the world, but people in the U.S. still don't think it's safe. Folks from the Commonwealth countries are wise to Colombia. There's no shortage of Brits and Aussies frequenting the country's many hostels, but not too many Americans.
Driving from one city to another — or even within a city — used to be a Colombian roulette game, today's Colombia is much more tranquil. Violence has dwindled to practically nothing, and the economy and car ownership have burgeoned. It's difficult to classify the spirit of an entire country, but after having traveled around most of it for more than a month (I know, not that long in the grand scheme of things), I'd say unlike in the U.S. and Europe, optimism is palpable there.
Roads
Colombia is a pretty big country — a little larger than California and Texas combined (what an unholy pair that would be) — so there are all kinds of different roads. Nearly half of the country's land area is roadless jungle crawling with militias and drug cartels, and the rest is mostly mountainous. It's population is clustered on the Caribbean coast, along three mountain valleys in the interior, and to a lesser extent on the Pacific coast.
You'll find flat, relatively straight coastal roads, a lot of curvy mountain roads, and if you go far enough away from the places where everyone lives, plenty of rutted jungle tracks. Colombia's highways are safe and well maintained, but they aren't really the high speed freeways we're used to in the states. Cars, trucks, and motorbikes move at a slower pace down there, because unlike the American interstate system, human life still touches the highways, much as it did here more than half a century ago.
You'll definitely see vendors in unexpected places (sometimes standing alone at a crossroad in the middle of nowhere, as if waiting for Robert Johnson to arrive), and speed varies with your proximity to the shoulder, regardless of the number of lanes. There will be a lot of small motorbikes cruising next to, or on, the shoulder.
In town, you never know what you're going to get. Medellín has nice roads, but rush hour traffic is a nightmare (particularly since Colombia's emissions laws are a bit dated, so a thick, sickly smog hugs the valley). Bogotá seems always to be choked with traffic, and is a massive, seemingly endless sprawl; like if L.A. were in New York and everyone spoke Spanish. Cartagena and Santa Marta, on the Caribbean Coast, are fine until it rains. Then the roads flood with really poopy-smeeling brown water and everyone (especially motorcyclists) drives very slow. Up in the mountains, the going is slow, and if you're in a cab, your driver might stop to pick up friends in really random places. For example, we were in a taxi on our way to Minca when our driver stopped to scoop up a sack of bananas and a grinning, white robed Indian sucking on a bowl of Coca.
The Pacific Coast and the Amazon are special cases, as there aren't any roads connecting them with the rest of the country. Roads in those regions are catch as catch can, so there aren't many cars to begin with. The ones there are have to negotiate terrible backcountry roads, gravel avenues, and, occasionally — where long gone drug money has left its mark — a stretch of paved road near the ruins of a drug baron's mansion.
Drivers
Colombian drivers use their horns, and they use them a lot. Their honks aren't usually the drawn out impatient/desperate ones like you'll find in New York City; they're more along the lines of, "Hey! I'm here! How's it going?!" Many cab drivers have amazing muscle memory when it comes to horn honking, able to effect a light honk for easy maneuvers and a loud, but not-too-long blast in more serious situations.
I'm going to go out on a limb and generalize here, but Colombia's drivers tend to be more relaxed near the coasts and in less populated places (the Caribbean Coast is pretty busy), and crazier in big cities like Medellín and, especially, Bogotá. For example, in Medellín, the combination of smog, curvy roads, and bad driving left my skin with a green tinge and my mouth with that sickly-sweet I'm-about-to-vomit taste. In Bogotá, one of our cab drivers negotiated the city's horrible gridlock like the main character in Office Space at the beginning of the film.