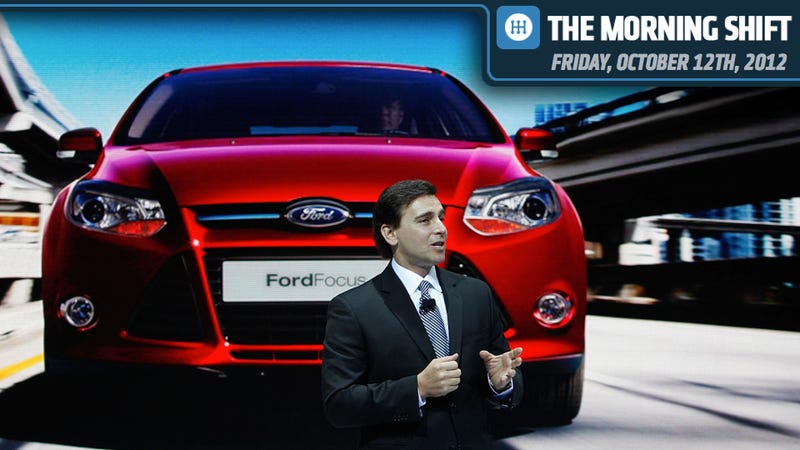 This is the Morning Shift, our one-stop daily roundup of all the auto news that's actually important — all in one place at 9:00 AM. Or, you could spend all day waiting for other sites to parcel it out to you one story at a time. Isn't your time more important?
---
1st Gear: Toyota First Knew Of Smoking Switches In 2008
Bloomberg reports that Toyota, which recalled 7.4 million cars this week for a problem that could lead to fires, first learned of smoking window switches four years ago. The company received its initial report of an "abnormal smell" and thermal damage from the United States, Toyota said in a report posted on the Transportation Department's web site. Bloomberg says Toyota sent the part to its supplier to investigate and no "root cause" was found. No other problems with the switch were reported until May 2010, when the company said it began sporadically receiving information about an abnormal smell or smoke coming from driver's side doors, according to the report.
"There was really no trend early on and it took considerable time to diagnose what seemed to be an isolated problem and how it was occurring," John Hanson, a U.S.-based spokesman for Toyota, said in an e-mail to Bloomberg. Also, when the second series of reports came in, Toyota was still reeling from a huge wave of more than 10 million recalls worldwide of sticking accelerator pedals. We know Toyota didn't give Americans the authority to deal with the earlier set of defects. However, this recall took place after Toyota had pledged to move faster to address problems on its vehicles. Toyota and the government clearly disagreed over whether action was needed in the smoking switches.
---
2nd Gear: Secret Service Bust The Guy Who Took Joe Biden's Truck
The Detroit News reports the Secret Service has tracked down and arrested the guy who stole a truck full of equipment for Vice President Joe Biden's speech on Labor Day in Detroit. The arrest of Charles Rumbley came to light before last night's debate between Biden and GOP vice presidential candidate Paul Ryan. Rumbley, 45, was charged in federal court with stealing federal property, a felony potentially carrying a 10-year sentence. Rumbley allegedly stole the U-Haul truck with $150,000 of metal detectors outside the Westin Book Cadillac hotel. Police recovered the truck the next day in an apartment parking lot near Henry Ford Hospital.
---
3rd Gear: Want David Cameron's Vintage Fiat?
The Telegraph says British prime minister David Cameron is selling his vintage Fiat 500L:. The fully restored, 1971 car is going up for auction at the Footman James Classic Motor Show on Nov. 17. It's estimated to have an auction price between $13,000 and $19,000. Cameron bought it in 1998 as a surprise birthday present for his wife Samantha. The Camerons put only about 1,000 miles on the little Fiat in the 10 years that they owned it. The car comes with supporting paperwork confirming it was the prime minister's car, including a signed letter from him on House of Commons stationery.
---
4th Gear: Why Is Ford Dragging Its Heels On Succession?
Bloomberg says Ford's board discussed a succession plan for CEO Alan Mulally yesterday, but ended its meeting without taking any action. Last month, it looked like Mark Fields was about to be promoted to chief operating officer, which would make him the clear successor to Mulally. And it still could happen. But Mulally has made it clear he doesn't want to leave yet, and his public plea to stay may have put the brakes on what seemed to be a sure thing for Fields. Analyst Adam Jonas at Morgan Stanley says the uncertainty isn't helping the company. He says investors are worried about whether Mulally's cultural and operational changes at Ford will be carried on by his successor.