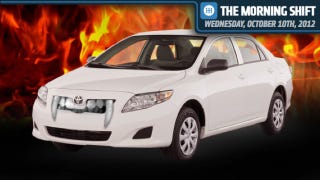 This is the Morning Shift, our one-stop daily roundup of all the auto news that's actually important — all in one place at 9:00 AM. Or, you could spend all day waiting for other sites to parcel it out to you one story at a time. Isn't your time more important?
---
1st Gear: Toyota Recall
Reuters says Toyota is recalling a breathtaking 7.4 million vehicles worldwide for a power window glitch that is a potential fire risk. It's the single biggest recall in the industry since Ford recalled 8 million cars in 1996 for an ignition issue that also could have caused engine fires. The Toyota recall dents its efforts to put the big recalls from last decade behind it, and it also comes after Toyota initially said there wasn't a need to recall the cars. According to Justin Hyde at Motoramic, Toyota told NHTSA in April that the problem might be due to dealers using cleaning products to fix sticking windows. Well, NHTSA didn't accept that explanation, and upgraded its investigation in June, a sign that a recall was likely.
Toyota's press release says the issue could lead to a smoking switch, although fire could occur if "commercially available lubricants" are used on the switch... leading to potential fiery death if you're exceptionally slow about getting out of the car. The recall number is huge because Toyota used the same switch across a whole bunch of cars, one of the problems that comes with global platforms. When something goes wrong, you have to bring them all in. The worldwide recall affects a variety of cars built from 2005 to 2010, according to Reuters, with 2.47 million sold in the U.S. Of the American cars in the recall, the vehicles include 2007 to 2008 Yaris; 2007 to 2009 RAV4, Tundra, Camry and Camry Hybrid; 2008 to 2009 Scion xD, Scion xA and Sequoia, 2008 Highlander and Highlander Hybrid, and 2009 Corolla and Matrix. (Prius is not on the list, nor are any Lexus models.)
---
2nd Gear: China Slump Could Hurt The Big Players
The Wall Street Journal (sub. required) says turmoil in China could hurt more than the Japanese companies. It says General Motors and Volkswagen could be hurt as well. "Chinese consumers may be shunning Japanese cars for nationalistic reasons, but there are signs that it's getting tougher for all auto makers to hit their ambitious sales targets in the world's largest auto market. Sales in July, the last month for which there's comprehensive data, fell 12.6% from June levels, according to the China Association of Automobile Manufacturers," reports Joe White. A slump in Chinese sales will expose how overbuilt the country has become, says analyst John Humphrey of J.D. Power Associates.
Here are some eye opening numbers: China has about 95 different automotive brands, while domestic and foreign auto makers have the capacity to build 28.5 million cars and commercial vehicles in China – about 9 million more than customers are likely to buy this year. That is a lot of empty production capacity. Humphrey thinks the Chinese market is a lot like the American market in the early 1900s, when there was a crazy number of companies competing for very few customers. (Read more about that in 4th Gear.) Only the companies with the strongest ties to Chinese consumers will make it and that might mean big trouble for foreign brands.
---
3rd Gear: Get Ready For The Fiat 500X
Top Gear says Fiat is planning to extend the 500 lineup with yet more vehicles, just as BMW is doing with Mini. One of them will be the 500X, which the Englishmen describe as a "proper little crossover." (Is that what this is?) They say it has a curvier body than this 500L, which is a bigger version of the basic 500, with a more rounded and rugged nose, prominent arches and a sloping tail. The 500X has higher ground clearance and the option of four-wheel drive which means a different rear suspension against the standard two-wheel drive - in other words, struts versus torsion beam.