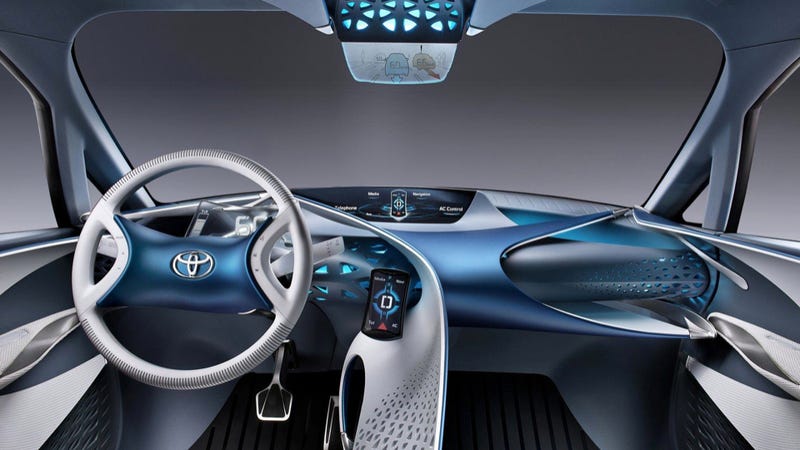 If this year's Paris Motor Show taught us anything, it's that in a European market struggling with a crippling downturn, it's best to look toward the future.
Let's check out some of the tech shown in Paris that'll change drivers' relationships with their cars.
By tech, of course, we often mean designs built around the concept of saving dirty fuel, or replacing it with electricity (that itself may come from dirty fuel). From Ferrari's lightweight Carbon Fiber chassis to Toyota's super lightweight FT-Bh, sometimes the solutions are ones gearheads can embrace as adding lightness,
And Audi e-Gas? Who doesn't love a car that you can make your own fuel for.
Yet designers also delivered fascinating new materials studies and tech designed around making the drive more fun, not just more efficient.
Audi e-Gas Concept

A car that runs on fuel you can make at home? It's the ultimate energy solution for on-the-grid survivalists (a lazier subgroup) and nerdy DIYers. It's all about methanation, bitches. That's a process that uses electrolysis — by way of grid electricity — to create hydrogen, which, when combined with carbon dioxide creates methane. You can use that homegrown methane to power a combustion-based vehicle, with minor modifications. Audi's multifuel solution in its concept A3 means it can use both gasoline and the gassy stuff. Sounds like total bullshit? Think of it as a relatively easy-to-implement stopgap measure for when OPEC decides it's done playing nice and cranks the price of oil up to infinity.
McLaren P1's Formula One Aerodynamics Tech

It may be in the category of cars aging rock stars will crash into bridge abutments, but the McLaren P1 and unicorn cars like it — cars that boldly push the aerodynamics envelope like Chuck Yeager kicking it in the Bell X1 — will accelerate advancements in active aero. Aerodynamics being one of the key pillars to the future of the car, along with reduced weight and increased thermal efficiency, the upshot is more sports cars that get great, everyday fuel economy without skimping on power and performance. And in the future, skimping will be banned by decree of President Ayn Rand's Cryogenically Frozen Head.