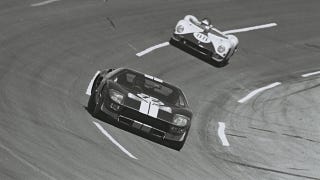 Perhaps the biggest showdown in sports car racing history was the battle between Ford and Ferrari in the 1960s. In '64, when the GT40 first went to Europe, hundreds of thousands of spectators turned up to the races. Why?
It was seen as a fight between the Old World and the New; between the computer-designed Ford and the handmade Ferrari; between the industrial giant from Dearborn and the small factory in Modena. In reality, Ferrari had the might of Fiat behind it, Ford was relying a great deal on small workshops in England, and the conflict wasn't quite what it was advertised. Who cares? It was a spectacle like nothing else, and really, everybody won.
Today, everyone was pretty much a winner, so we're going to highlight a couple of threads. There's a lot to read, and a lot to enjoy.
First, we have a serious discussion between representatives both in the fair US of A and in the Vaterland starting with this from Parti-vi.