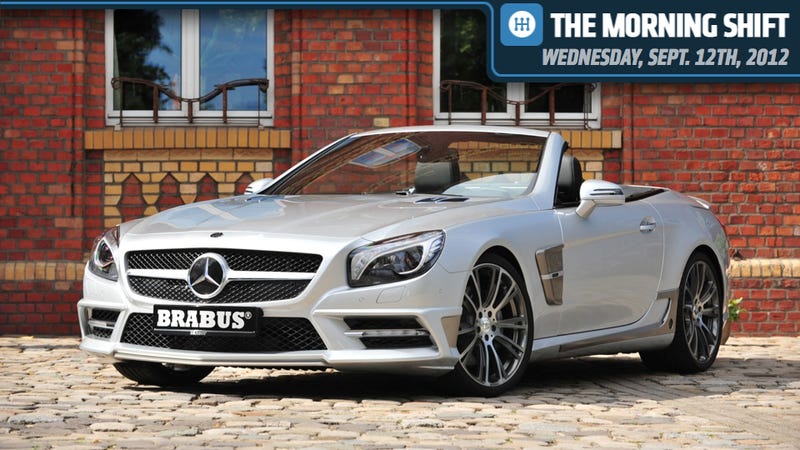 This is the Morning Shift, our one-stop daily roundup of all the auto news that's actually important — all in one place at 9:00 AM. Or, you could spend all day waiting for other sites to parcel it out to you one story at a time. Isn't your time more important?
---
1st Gear: Mark Fields Has His Eye On The Ford Prize
Bloomberg broke the news yesterday that the Ford board is about to name Mark Fields as the company's chief operating officer. The board could act at this month's or next month's meeting, according to Bloomberg's Keith Naughton. That would put Fields, now president of the Americas, first in line to succeed CEO Alan Mulally, if Ford goes with a candidate from inside the company. We've learned over the past decade that there are no sure things when it comes to executive succession. Just think about it: none of the three CEOs at the Detroit carmakers came up from within the Detroit ranks, and two of them had absolutely no automotive background as corporate executives. So, while the title is certainly a boost for Fields, it isn't a guarantee.
Still, you have to hand it to Fields for his determination. We've all mocked him a bit through the years, for his previous mullet hair style and his past use of company planes to visit his family in Florida. But Fields is a student of management strategy, and he's obviously figured out how to work with Mulally, who could have easily brought in more people from outside when he joined Ford from Boeing. The big challenge now for Ford is to fix Europe, which is a mess, and stay on the ball in North America, where it's had strong profits but is losing market share. Fields' final exam will be based in part on how well those turnarounds go.
---
2nd Gear: Volkswagen Plans A Lightweight Golf
Autocar reports that Volkswagen is developing a version of the Golf that's light on its feet. The "carbon" Golf GTI would be a limited edition, carbon fiber and aluminum car, which Autocar has spotted being tested in Germany. The car has a couple of purposes. It's meant as a tribute to the original, pared down Golf GTI, and, of course, it's a way for VW to learn how to mass produce a vehicle using new materials. The goal is to shave about 440 pounds off the Golf GTI's curb weight, dropping it to about 2,475 pounds. The lighter weight should result in a faster, more fuel efficient vehicle. The car probably won't come cheap, but it should be available in time for the Golf's 40th anniversary in 2014.
---
3rd Gear: Marchionne Gives Chrysler Dealers A Peek At What's Coming
Chrysler dealers met this week in Las Vegas, and got to see a slew of new models that are due over the next few years. The Wall Street Journal (sub. required) says they saw a new mid-sized sedan, due in 2014; a new compact car, the Chrysler 100; a four-door subcompact called the Fiat 500L; a compact Jeep; and a replacement for the midsize Jeep Liberty, the name of which wasn't specified. Reuters says the dealers also got to see two Alfa Romeo models that are coming to the U.S., and says there was a Chrysler 200 that looked a lot like Dodge Dart. Dealers at the meeting told Reuters they're a lot happier than they were two years ago, when Chrysler had just emerged from bankruptcy. "Compared to the show two years ago, this was like a lovefest," said Don Lee, President of Lee Auto Malls, which has two Chrysler dealerships in Maine.
---
4th Gear: Wave Buh-Bye To GM's Biggest Hybrids
GM Inside News reports that General Motors is canceling almost all the hybrid variations of its pickup trucks and sport utility vehicles. GM Inside News says it's unusual for a company to cancel models so close to launch. But the action might not be surprising, given the tepid sales of current two-mode hybrid light trucks. The Cadillac Escalade hybrid may remain in the mix for the next generation, according to GM Inside News. GM uses the two-mode system on Escalade, Chevrolet Silverado and Tahoe and GMC Sierra and Yukon. The system uses two electric motors housed in the transmission case and a nickel-metal hydride battery pack to assist in powering the vehicle under specified conditions. In most applications, the publication says the system is rated at 20 mpg city and 23 mpg highway.
---