As I plunged through a sweeping set of bends, deep in the Alaskan wilderness, I almost missed the big-ass black bear sitting in the middle of the road. Fortunately, I managed to stop just a few feet away and watched as this beautifully savage animal meandered back into the undergrowth.
The car I nearly splattered with bear juice just so happens to be the vehicle that every Alaskan should own. The Porsche Cayenne Diesel.
(Full Disclosure: Porsche wanted me to drive the Cayenne Diesel so bad they flew me all the way to Alaska. There, I touched a wild river salmon, ate a dead salmon, and wore a salmon colored shirt. Sadly, unlike Sarah Palin, I couldn't see Russia at all.)
Let's get the obvious out of the way immediately. Can a racecar driver who is all about speed and performance really get on board with a diesel? Well, yes I can.
Of course, a diesel isn't suitable for everyone, and it certainly isn't right for every car. But with the Cayenne it compliments the solid lineup of models currently in place. From a statistical standpoint, it places just above the basic V6 Cayenne but below the Cayenne S, providing a stellar alternative for a specific buyer — even in a traditionally non-diesel US market.
G/O Media may get a commission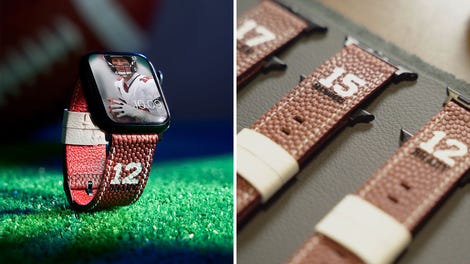 Official NFL PRODUCTS
Official NFL Apple Watch Bands
That buyer would be a wealthy individual who wants a luxury SUV that maintains a sporty feel, yet can do a claimed 740 miles on a tank. Yes, you heard that right, 740. With the Cayenne Diesel you could theoretically drive from Quinhagak to Fort Yukon without filling up the car and still have enough fuel to take a small detour. And being that the diesel motor is equipped to an SUV, you don't feel like you're giving up a whole lot by opting for this model over a regular, gas-powered engine.
It's a good, comfortable, sporty SUV, that is as competent off-road as it is on. It is more than capable of taking you on an adventure that would excite even Bear Grylls, and on my 300-mile Alaskan exploration, I barely used over a quarter of a tank of diesel. It's the perfect car for stylish adventurers everywhere.
In England we have a spread for your morning toast called Marmite. And Marmite's advertising campaign is "Marmite. You either love it, or you hate it." Personally, I can't function without it but my wife would be sick if it came within a foot of her. I think the Cayenne appeals in much the same way. Some just cannot get on board (even after 10 years) with a fat, plumpy Porsche SUV, whereas others think it looks awesome. Leave the car in the parking lot next to any other SUV and see which one garners all the attention. More often than not it'll be the Porsche.
As with most cars, the wheels make a huge difference. The diesels I drove all had 19" wheels with chunky, multipurpose tires. The car looks considerably better with 20's and low profile tires, but it depends on your intended use as to whether sporty wheels and tires will suffice.
The Cayenne Diesel has no aesthetical differences between its gas-powered siblings, other than its diesel nametag. So if you like the Cayenne, you'll like the diesel. If you don't, you won't.
I love the interior in the Cayenne. It's modern, sophisticated with an expensive feel, but more than anything, it's different. The sloping center console and compass on top of the dash, along with the vertical air vents make for a uniquely Porsche look. When you close the doors they shut in a purposeful, yet soft manner. Stitched leather lines every nook and cranny, and seats have incredible support. Again, nothing is new with the diesel model. And that's good, because Porsche have the Cayenne (much like the Panamera) nailed. You feel like you're piloting a sports car and there are buttons for everything.
The Cayenne Diesel coaxes its 240-horsepower, 3.0-liter turbo engine to a 0-60 time of 7.2 seconds; two-tenths of a second faster than the V6 Cayenne. But what is most impressive with the diesel motor is the 406 lb-ft of torque it produces from as low as 2,000 rpm. When you touch the gas in sport mode, the car lurches forward, tricking you into believing you're in a far faster machine than you actually are. Of course, 7.2 seconds for an SUV is hardly slow, but I suppose it is when you compare it to the Cayenne Turbo, which flies to 60 in just 4.4 seconds.
The Cayenne Diesel isn't fast, but it isn't slow, either. And all that diesel torque makes for a car that keeps going as you cruise past 60.
Well, I didn't hit the bear, so I guess you could say that the six-piston front, four-piston rear aluminum monobloc calipers do a good job. I was also brake-tested by an angry Alaskan, presumably jealous of my sweet ride, and I missed him too. FYI, I was well over a truck length back from him, just keeping up with his pace, when he slammed on the brakes and flipped me the bird. What a cock.
Like all Cayenne's, it never ceases to amaze me how they can feel so smooth and supple one minute, then the next tighten up and feel like a real Porsche sports car. The Cayenne Diesel is no exception as, like with the exterior and interior, it is the same as all the other models. The cars I drove all had the air suspension option, which is really a must (and an expensive must at $3,980) and allows the Cayenne to act like the chameleon it is. You have three suspension settings to chose from: comfort, normal and sport. All three deliver a nice transformation to complement a specific mood. When taking the Cayenne off-road (providing you have a suitable wheel set) it performs as well as it does on tarmac. Switching the AWD system to off-road mode allows you to scale boulders and descents in a way you would never believe possible with a Porsche. It's here the Cayenne showcases its incredible versatility and morphs into the perfect SUV for every eventuality. And with the seemingly implausible amount of distance you can cover without filling up the tank, it makes even the wildest of adventures a complete doddle.
Engine: 3.0-liter V6 diesel
Power: 240 HP @ @ 3,500-4,000 RPM/406 LB-FT @ 1,750-2,500 RPM
Transmission: 8-speed Tiptronic S
0-60 Time: 7.2 seconds
Top Speed: 135 MPH
Drivetrain: All-wheel drive
Curb Weight: 4,795 lbs.
Seating: 5
MPG: 19 City/29 Highway/23 Combined
MSRP: $55,750 (base), plus $975 destination
Show me another SUV than can handle like a Cayenne. You won't. For a top-heavy car that weighs 4,795 lbs (which is lightest in class), it dazzles. It is so wonderfully balanced and poised. The low-end torque available in the diesel adds an extra level of gratification to the experience, too.
The magnificent roads through the Alaskan mountains were the perfect setting for the car to shine. Moose lined the roadside, bald eagles flew over overhead and among the wonder and beauty of it all, the car didn't get lost. It remained prominently in my thoughts and I didn't want the route to end. So much so, in fact, that I dropped my ride partner off at the hotel and went back out for another 50 miles. Genuinely, there was no other car I would have rather have driven in this type of setting.
The Cayenne Diesel is mated to an eight-speed Tiptronic S transmission. In auto it works competently and does its job. Switching to sport mode prompts the gearbox to behave in a slightly sportier manner, which it does. The silly buttons on the wheel for use in manual mode are effectively useless. Shifts are slow; you just never use them, as you might in a faster Cayenne model. But in the diesel, leaving it in auto works well enough.
Let's start off with the engine note. It's a diesel. It sucks. It sounds like an asthmatic moose. So a point has been removed. But the 585-watt, 14-speaker Bose Surround Sound System did a wonderful job of drowning out the wheezing. The only downside was no signal for the FM radio, or Sirius in the depths of Alaska, so I had to make do with the crappiest jazz CD ever.
The Cayenne Diesel is pretty well equipped. It comes with a telephone mode, HD Radio with Sirius XM, lane change assist, front/rear park assist with rear view camera, navigation and panorama roof.
Of course, if you want any of these, get out your checkbook, drop your pants, and bend over. You know what's coming.
And that leads us nicely to the value of the Cayenne Diesel. Base price is $55,750, plus $975 destination. And that's a steal. But of course, this is Porsche. And that means to option out the car to the spec I drove, it will now cost you $85,310. The "cargo management system" is $590, and if you want a six-disc CD changer, then that'll set you back an additional $650. And the list just goes on and on.
But despite these vast add-ons destroying the formerly alluring price, I still think you are getting a great deal. It's such a pleasing car to drive and the interior is immaculate. It handles like a sports car, yet can traverse off-road with three kids and a Labrador. You can drive around Alaska without filling up on gas, for heavens sake. Sure, it's a diesel, but who cares. I don't. I thought the Cayenne Diesel was brilliant. It was as wonderful as the setting in which I drove it.
74/100
EXTERIOR (7/10)
INTERIOR (9/10)
ACCELERATION (7/10)
BRAKING (8/10)
RIDE (9/10)
HANDLING (7/10)
GEARBOX (6/10)
AUDIO (7/10)
TOYS (7/10)
VALUE (7/10)
2013 Porsche Cayenne AWD 4dr Manual Specs