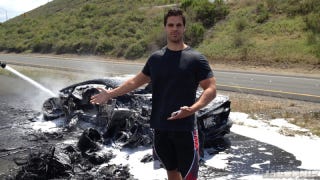 Immolated supercars have become a pretty frequent sight here on Jalopnik and in other news outlets. Once, these mighty machines dropped jaws and panties with their stunning looks and obscenely powerful engines.
Then a fire happens, and they're reduced to something that looks like an over-toasted marshmallow at a Boy Scout jamboree campfire. A marshmallow that was built in Italy, cost six figures and used to do 0-to-60 in under four seconds.
The thing is, supercars never seem to simply "catch fire" - they always burn hard and fast until they're just completely obliterated. Just last week, Jalopnik reported on a Ferrari 458 Italia that burned up on a Swiss highway. Luckily, no one was injured, which is miraculous considering what could have happened.