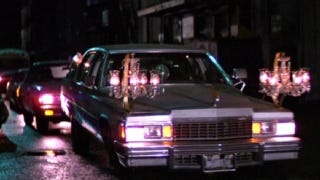 Isaac Hayes' character in Escape From New York was far from positive, but you root for him from the moment he comes onscreen. Why? Chandeliers.
Yes, Isaac Hayes put chandeliers on the front of his '77 Fleetwood Brougham. It is the most pimptastic customization ever fitted to a car. It was such quality, you didn't care he was the bad guy.
Much in the same way, we didn't care if Julian Assange is the good guy or the bad guy in this whole London/Ecuador asylum thing, so long as there's a totally badass chase to the airport.