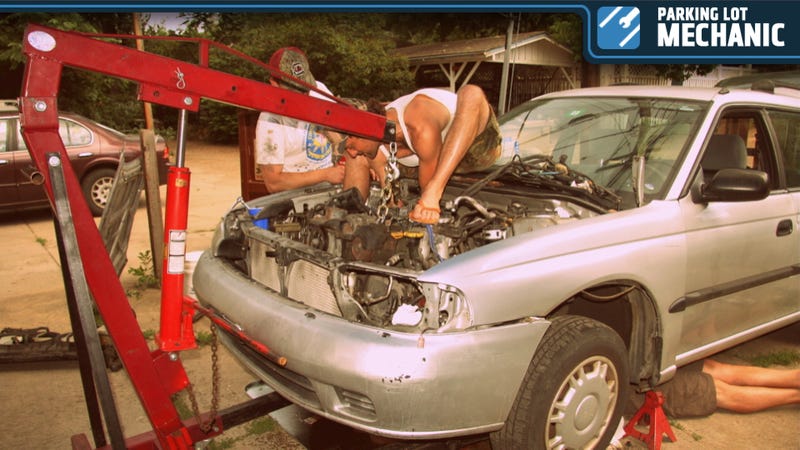 Removing an engine from a vehicle is hard work, particularly on bigger cars and trucks. But that doesn't mean that it has to be unpleasant. It can actually be pretty fun if you include enthusiastic people who like solving problems and don't mind getting dirty.
Here are the basics of how to get the job done, and how to have a good time doing it.
Don't be scared by the prospect of pulling an engine. It's a huge pain in the ass, but it's not impossible, and on most cars, you can do it with basic tools and a rented engine hoist. It also helps to have at least two friends helping (don't try a solo engine pull, it sucks), and to get them interested, you have to jazz it up a bit.
I decided to turn an industrial activity into a theme party; a "harvest" festival, if you will. We started with a brunch, and had plenty of snacks and cold beverages available for while we were working. For those not interested in getting their hands dirty, we put out chairs and set up a game of cornhole.
Now, down to the more practical bits. Everyone has a different reason for wanting to remove an engine — the one you're using is worn out; you want a bigger one; you're scrapping the car; etc. In my case, a friend was scrapping a rusted out '95 Subaru Legacy with a low mileage engine I'd like to use in my car (at some point). Removal from a donor is way easier than most other engine removals (and definitely easier than putting one back in) because you don't have to worry so much about breaking things.
To start, I had to make sure I had the essentials in order.
a Haynes or Chilton repair manual. Don't do this without one unless you know what you're doing. Your car may have some weird parts or procedures that you wouldn't know about until you read through the steps.
a hard, flat surface upon which to do the job
basic tools like sockets, wrenches, pliers, wire cutters, razor blades, and a breaker bar
a jack and jackstands
containers/a splash pan/rags to catch oil, coolant, and transmission fluid
a rented engine hoist
a short length of chain to attach to the engine
a piece of paper and a pencil, and a digital camera
Let's get started!
Photo credit: Benjamin Preston
First off, get your food and drinks in order. It's smart when you're going to be out on your feet all day, but it also keeps your helpers happy. We started out with pancakes and a special kind of orange juice, so everyone was well fed and mellow when it was time to get started.
Photo credit: Benjamin Preston
Depending upon where you live, an engine hoist can be pretty easy to find. I just googled equipment rental, and after finding out that most of the engine hoists in town were checked out for the weekend, I found a place about 12 miles away. Standard outlets for stuff like this are Taylor Equipment Rental and Sunbelt Equipment Rental. It cost me $40 for a day.
Photo credit: Benjamin Preston
To start, take pictures of what everything looks like before you begin tearing out wires and hoses. It's hell to try and remember how they all go back in. If you're putting this engine into a totally different car, you're screwed anyway.
Arrange your splash pan under the car, block the back wheels with bricks or rocks or something, and jack up the front end of the car on both sides. You'll need enough room to shimmy under the car and disconnect things like exhaust and engine mounts, so MAKE SURE YOU SHAKE THE CAR TO ENSURE STABILITY. You don't want a car falling on you or one of your friends.