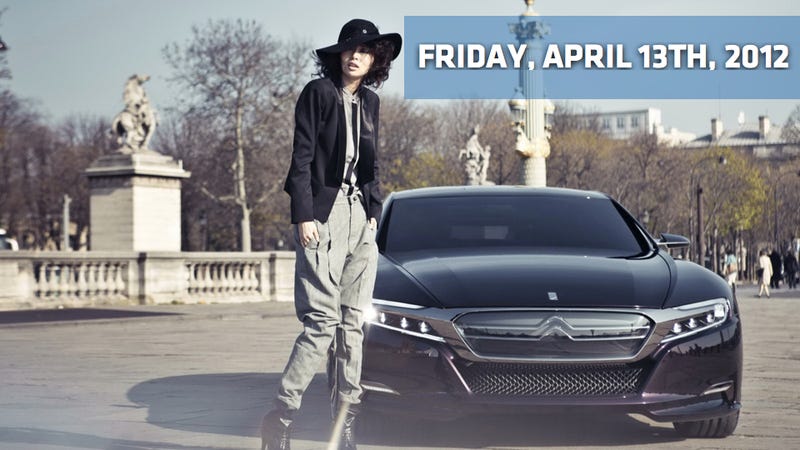 This is the Morning Shift, our one-stop daily roundup of all the auto news that's actually important — all in one place at 9:00 AM. Or, you could spend all day waiting for other sites to parcel it out to you one story at a time. Isn't your time more important?
---
1st Gear: Citroen Numero 9 Smells Like [Insert French Joke Here]
Everyone thought that this concept car Citroen will present at the upcoming Beijing Auto Show would be named the DS9. Nope. Instead, it'll be dubbed the "Numero 9" — part of an attempt by the brand to associate itself with French luxury goods, notably Chanel SA's iconic "Nº 5" perfume. Jokes about it smelling like a French whorehouse, eating a baguette with stinky cheese and surrendering at the first sign of danger aside, the "Nº 9" — an attempt at signaling the future design cues of C- and D- segment sedans and an SUV — actually is fairly pleasing to the eyes. Well, as long as you don't look to closely at the grille. Because that looks like someone stuck the Citroen double-arrows inside the air intake of a Ford Fusion/Aston Martin/Kia Optima/Chevy Impala/everything-else-with-that-same mouth. Also, don't look at the side profile view. Ever. In fact, it's no wonder that in almost every one of CarScoop's 120 pictures of the car, it's partially obscured.
---
2nd Gear: Chrysler Claims NHTSA Investigation Limited To 2010 Jeep Wranglers
Chrysler's taking issue with news accounts saying the federal government is expanding its investigation into fires in 2010 Jeep Wranglers — an investigation we broke the news on at the start of this month. USA Today's Chris Woodyard says the automaker claims "the scope of NHTSA's official investigation of the Jeep Wrangler has not been expanded beyond the 2010 model year." Apparently, according to Chrysler, the National Highway Traffic Safety Administration has asked Chrysler for data on other model years of Wranglers, from 2007 to this year. But they are apparently using the data as a point of reference to look for problems in the 2010, not for an expanded investigation, according to the automaker. Of course this is the same automaker that was attempting to get at least one Wrangler owner to keep quiet about his Jeep fire. We'll be calling our sources this morning to find out for sure.