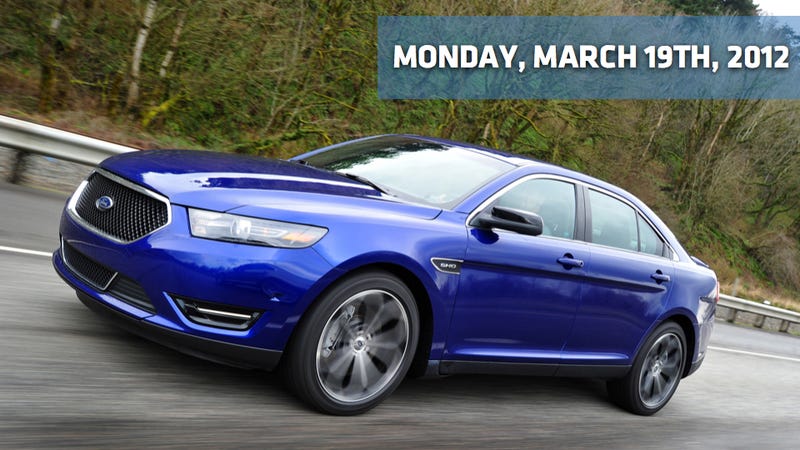 This is the Morning Shift, our one-stop daily roundup of all the auto news that's actually important — all in one place at 9:00 AM. Or, you could spend all day waiting for other sites to parcel it out to you one story at a time. Isn't your time more important?
---
1st Gear: The Tourneo Custom Is Not A Transit Connect
Yesterday, Ford pulled the wraps off the Tourneo Custom the automaker first previewed weeks ago at the Geneva Motor Show. The Tourneo Custom — Ford wants to very clearly delineate this from its similarly initialed "Transit Connect" — is the car maker's European light-duty commercial passenger van. It probably doesn't help that they used to sell the Tourneo as part of the Transit Connect lineup. That said, it's capable of carrying eight or nine people depending on whether you've got the short or long-wheelbase version. Like the concept, the new Ford Tourneo Custom features an almost car-like appearance. Also, like the concept, don't expect it to hit U.S. shores any time soon.
---
2nd Gear: Taurus SHO To Star In Ford TV Ads, Herald Death Of Lincoln As "Luxury" Brand
With the mid-sized Fusion long since eclipsing the full-sized Taurus as Ford's best-selling car, Ford is trying to make a stronger case for the facelifted 2013 Taurus. According to Automotive News, the Dearborn, MI-based automaker now plans to market the top-of-the-line SHO version as "upmarket" in an attempt to win customers who normally would buy performance sedans from BMW, Audi or other luxury brands. Huh. What about the newly-designed soon-to-be-unveiled "production" version of the Lincoln MKZ concept we saw in Detroit? Shouldn't Ford be finding a way to use that — or the MKS, Lincoln's version of the Taurus — to go after other luxury brands? Could it be that Ford's already given up on Lincoln, and they don't even expect the MKZ to be the "Hail Mary" the "luxury" brand needs to survive the slashing stare of Alan Mulally?