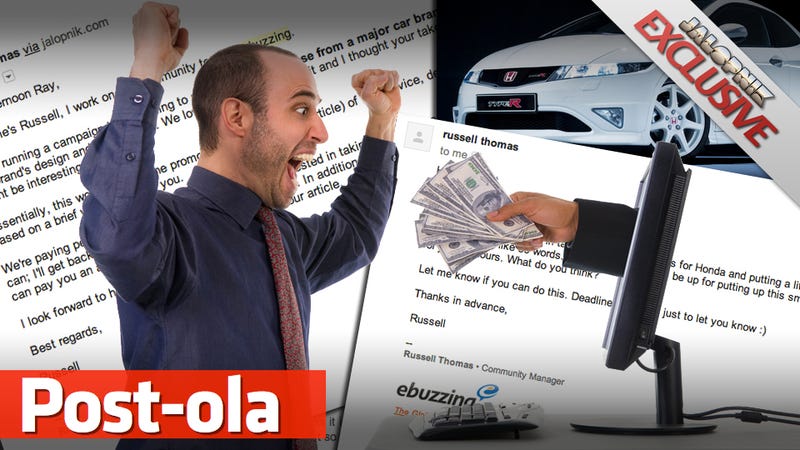 The new Honda Civic is so boring you'd probably have to pay me to write something positive about it, which is exactly what Honda attempted to do via a third-party European company. Welcome back to the world of pay-for-post blogging where automakers desperately try to generate positive social media buzz — and fail.
I first received an email from Russell Thomas in January saying there was "a major car brand" that was willing to fork over cash to Jalopnik to write about their car. While my journalistic pride means I have no intention of actually accepting a check in a money-for-coverage scheme, my journalistic curiosity led me to write him back and and let him know I was interested.
I was informed by Thomas that all I'd have to do is sign up as a "publisher" on the website of eBuzzing, the company he works for, in order to access campaigns. I did, and, after filling out their form telling them my primary language and general traffic stats, I was "validated" and assigned my first story.
Sadly, the first story was not the one originally promised, but a chance to earn £200.00 (approximately $315) to write about Red Bull's experience in the Dakar 2012 Rally. Since I wasn't interested in Red Bull I passed, although we did end up writing a few articles on the event — they were mostly centered around Robby Gordon, who is sponsored by a different energy drink company.