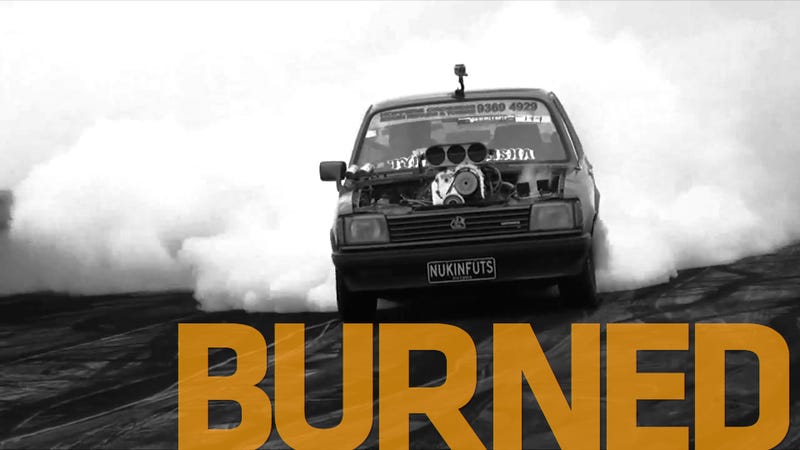 It's easy to assume that this epic burnout to end all epic burnouts was what got an infamous burnout king banned from one of Australia's biggest car shows, but the reality is hidden somewhere behind the field of tiresmoke.
Steve Nogas, AKA NUKINFUTS, is something of a legend at Summernats — the car show in Canberra that says it's trying "to establish burnouts as a legitimate motor sport."
Competing in the burnout competition on January 8, Steve was entering the competition area when a marshal informed him (after waiting in line behind the rest of the competitors) of a disqualification related to an incident in qualifying. Amped up by fan support and ready to burnout, Steve refused, eventually brushing several marshals aside to enter the track and perform for the crowd.
That's right, the burnout itself is totally kosher, it's the incident at the beginning of the video that's what got Steve banned.
There was an incident at the burnout track on Sunday 8/1/12 involving entrant Steve Nogas in NUKINFUTS. Nogas was seen to forcibly drive his car through officials who were instructing him not to drive at the time, and then did an unauthorised burnout. He was removed by security at the end of his drive and was immediately given a life-time ban by management.
We made the immediate life-time ban decision for two reasons. The first and most important reason was we saw a guy place our burnout management team in great physical danger. We were very upset by that. Second, we were furious that all our efforts to establish burnouts as a legitimate motor sport could have been ruined in one moment. This is not just about the Summernats. There are a lot of people out there who want to see burnout events banned across Australia, and all competitors and event promoters alike have a responsibility to protect this awesome sport.
"Hooning" is considered a crime in Australia (they even charged F1 racer Lewis Hamilton) so the threat to this kind of driving — even in a controlled environment — isn't imagined.