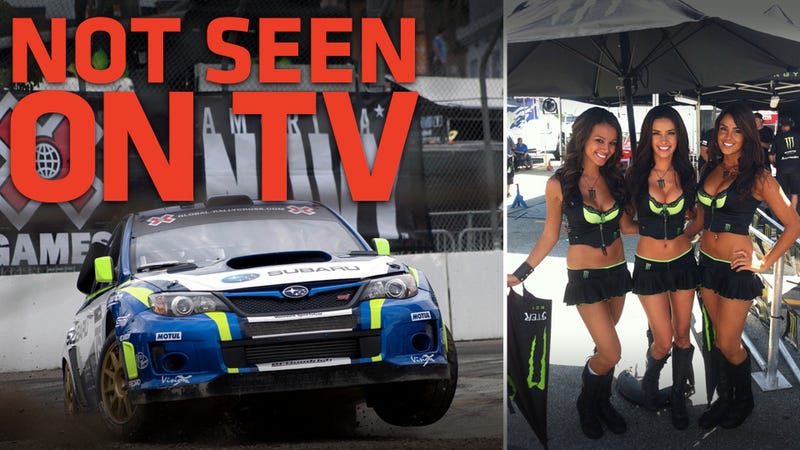 If you're ever invited to watch the X Games do yourself a favor and skip the events and just watch them on television. If you're ever invited to an X Games party do yourself a favor and suck down a lot of energy drinks so you can enjoy as many of them as possible.
I'm not sure what to call the X Games Rallycross event this year. I can tell you that the traditional X Games format of two cars racing head to head was boring, almost painful to watch. It just sucked, like watching an autocross you aren't competing in. Liam Doran won in a Citroen, which is kind of cool, and I keep hearing I should have a beer with him which must mean something.
On the other hand, the proper Global Rallycross on Sunday was pretty much Awesome with a capital A, but probably better if you sat at home and watched it on TV (more on this later). There were 8 or 9 cars on track for the final race which came after 2+ hours of four car heats was a good time in the sun.
The heat races were cool, but seeing almost the entire field on track at one time rocked — even if it was only the factory teams. I believe the heats pretty much weeded out the privateers Conley, Keeney, Van Way, and Verdier –- but Global Rallycross is legit and primarily contested by serious factory backed teams with mechanics that fly over from Europe to wrench on the cars. Even being in the field to compete for the final is an honor.
So why is it better on TV? Because you really couldn't see anything in person, which I understand is very different from how the first three Rallycrosses of the year went down. For those you could see most of the track from the viewing areas.
I had a media pass which restricted me from being in any of the spectator grandstands or really anywhere that allowed me to watch the race, seriously, I would have been better off buying a ticket. I found out later that they finally gave tickets to some of the media that complained and decided to let five people at a time go to the top of the skateboard jump.
And to top it all off, spectators weren't allowed in the rally paddock, or at least that's what everyone on Facebook keeps telling me, which meant I couldn't hang with anyone that showed up. So if you bought a ticket, you watched cars go over this synthetic jump (see a real jump at 0:17 here) and make a slow corner, or you went to the back of the track and watched some cars through a chain link fence, but you certainly weren't going to be allowed to see the cars in person or talk to any of the drivers.
It was pretty bad. So I blew the whole thing off and partied. And it was one of hell of a party.
The first day started off with a tour of Jay Leno's incredible garage, which I totally tagged.