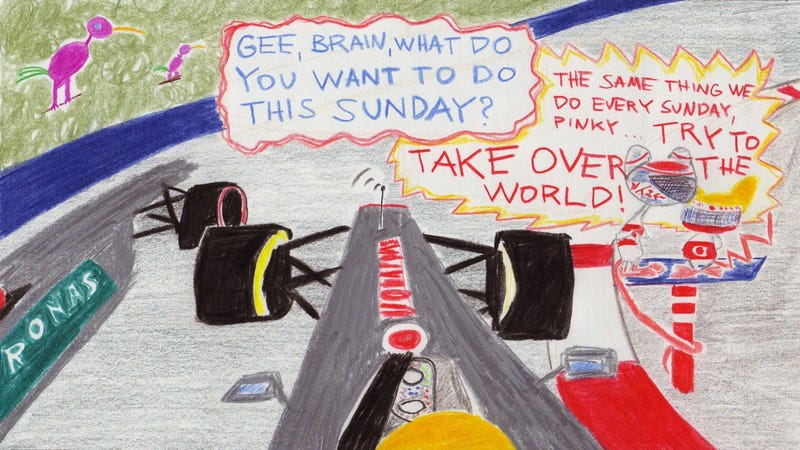 A third of the way into the season, and here's Monaco. It takes brains to win at Monaco. It also takes luck. And more luck. This year's race was a showcase of what's awesome about this antediluvian Grand Prix, and also of what makes Monaco so terribly irritating, for 2011 was a teeth-gnashing coitus interruptus of a mind-blowing Grand Prix. Warning: spoilers.
Perhaps the best way to understand the glamour and weirdness of the Circuit de Monaco is to look at the Grands Prix it's inspired over the years. The gentrified docks of Valencia Street Circuit produce tedious races like no other track. The Hungaroring is just as tight and twisty as Monaco, with yachts and glitzy women replaced by a dusty bowl and, well, other sort of women on the outskirts of Budapest. Singapore looks pretty from a helicopter.
What all of these tracks are missing are the vertiginous elevation changes of Monaco and its history, which goes back to 1929. Subtract both and you end up with a narrow track that's impossible to pass on. Is Monaco a good racetrack? Probably not. It's very technical, yes, but the racing is much better at Interlagos or Spa. Try to match it for a sense of occasion, though, and only Monza comes close.
The tight, twisty, treacherous track is usually host to races full of various incidents, and this year was no exception. Nico Rosberg was first in line to turn Formula One cars into interesting-looking pieces of carbon fiber wreckage, but he would not be the last. During qualifying, Sergio Pérez messed up his exit from the tunnel even worse than Rosberg had, and he crashed sideways into a barrier by the harbor chicane. He suffered nothing worse than a concussion, but he couldn't take part in the race—a shame, because he'd taken his Sauber all the way to Q3 of qualifying.