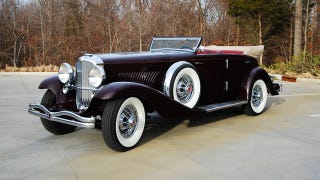 While it's arguable whether or not the phrase "It's a Duesy" was originally adopted in reference to the Duesenberg, the quality of the cars had given the saying an additional meaning by 1934 when this JN model, currently for sale on Ebay, was built.
When you think of the term "Collector Car" the Duesenberg might not be the first thing that comes to mind, but it should be. While Enzo Ferrari was still building race cars for Alfa and tailfins and muscle cars were still years away, Duesenberg had already produced a hand built luxury car that is still revered for its mechanical ingenuity and style today. Taking a look at this 1934 Duesenberg JN Rollston "convertible sedan" it isn't hard to see why.

A total of 10 JN models were produced by Duesenberg and all were bodied by Rollston. This particular example is a "convertible sedan" because of the extra set of doors outback. Only three of the 10 JNs produced were convertible sedans. Even with only three produced, the JN convertible sedans seem to be a hard to dispute answer to last weekend's best looking four door QOTW.