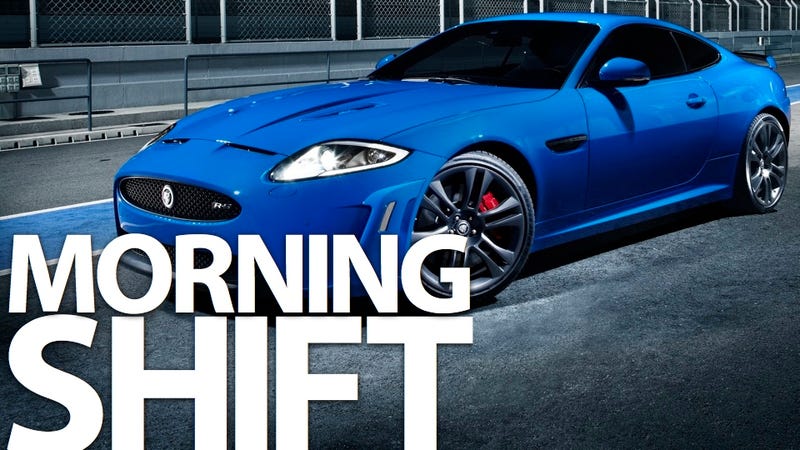 This is the Morning Shift, our one-stop daily roundup of all the auto news that's actually important — all in one place at 9:00 AM. Or you could spend all day waiting for other sites to parse it out to you one story at a time. Isn't your time more important? Photo Credit: Reuters
---
1st Gear: Jaguar's pumped up the power and handling on its pretty kitty, the XKR, for next week's Geneva Motor Show. The result is a cat Jag claims is the fastest production Jaguar sports car ever. It's called the XKR-S and it's got the standard XKR's 5.0-liter supercharged V8 under the hood with some as-yet-unveiled upgrades to boost output to 542 bhp (up from 510 bhp) and 501 lb-ft o' torques (up from 461 lb-ft). We'd say "Faster, pussycat! Kill! Kill!" but it's just too soon. [Grab some high resolution shots over on our Facebook page.]
---
2nd Gear: The Fiesta S1600 is back, and with a power boost plus some beefed-up looks. Last year, they made a mere 650 of these fast Fords. This year? Just 500 units will be made. With greater exclusivity comes even more power. The 1.6-liter naturally-aspirated gas engine is up from 118 bhp to 132 bhp, which helps drop the 0-to-62 to just 8.2 seconds — a 1.7-second improvement over the standard model. Do want. Do want badly.
---
3rd Gear: Congrats to Ray Day's PR team at Ford for providing further proof auto shows (that aren't the Detroit Auto Show and its critical mass of journalists) have ever-lesser importance when it comes to driving buzz about new cars. Ford CEO Alan Mulally's skipping the Geneva Motor Show to give the keynote speech at the CeBIT technology show and show off MyFord Touch. Good call. The kiddies love the gadgets. The fun-to-drive cars? Not quite as much.
---
4th Gear: Speaking of Ford, one month ago NHTSA sent FoMoCo a letter asking for a recall of 1.3 million 2004-06 F-150 pickups. At the time, the automaker blew off NHTSA. Today Ford's voluntarily recalling 144,000 of those pickups (from model years 2005-06) over concerns that air bags could deploy without warning... and possibly lead to fiery death. Now Ford's hoping this limited recall will sate the safety-obsessive beltway beast. Hmm, maybe they just need more testing with dead bodies.