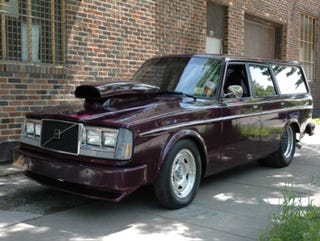 What do you do when your reliable and safe vintage Volvo wagon doesn't quite do it for you anymore? The builder of this beast of a brick turned a sensible Swedish wagon into a 'merican powered muscle car.
When you see an old car for sale, there is often a claim of rarity or the fact the car in question is one of a kind. More often than not, the claim is a gross overstatement. This is one of the rare occasions where it is not. What you are looking at is a 1978 Volvo 245 Wagon that has had the "Pro Street" treatment from front to back.
Regular weekend readers might remember the Mercedes Benz 240 which had also received the "Pro Street" treatment we saw a couple months ago. Not quite a drag car and not quite a street car, we though the Benz would hold the most unlikely vehicle modified for strip and street use title for some time. That all changed when we stumbled across this Swedish wagon on Ebay with a freshly beating American heart.