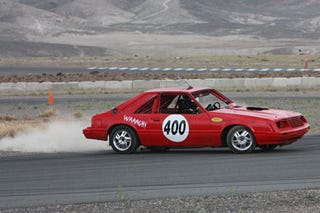 Automobile racing is a lot of fun, a very expensive, time consuming, amount of fun. But just because it can be ridiculously expensive doesn't mean you can't be involved in motorsports. Join a pit crew.
Race teams are always looking for more people to work volunteer on their pit crews. Being on a race team is a good time but it's also hard work and this hard work is usually paid for in bologna sandwiches and beer (if you're lucky). Here are some of the jobs available, see which one fits your style.
Fueler
If you don't mind the risk of being run over or burning to death you could be a fueler for a race team. You get to wear a cool nomex suit (in reality it is a very hot nomex suit) and jump over the wall. In most cases you only have to work for about thirty seconds at a time. Inevitably during your down time you'll be wheeling gas cans long distances in the paddock to be refilled. Depending on the team you're with you will be doing this in a custom painted golf cart or by dragging along a red Radio Flyer wagon with a warped wheel.
Tire Changer
Race cars go through tires like Kim Kardashian goes through athletes and rappers, which means they need to be changed constantly. Pit stop tire changing is a quick athletic task, but your job isn't over once the car is back on the track. Tire changers spend most of their days mounting and balancing wheels, cleaning rims, adjusting air pressures, shaving tires and making decisions on tire compounds. It is an enormous task and a huge responsibility. Everything the racecar does on track it does using the tires. If it doesn't, your team's car is upside down and you have bigger problems.