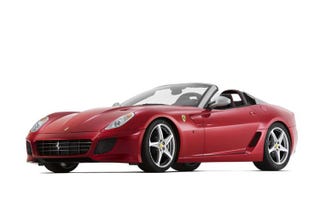 This is the Ferrari 599 SA Aperta, the drop-top roadster version of the 599. Want one? Tough. Even before it makes its public debut next week in Paris, Ferrari's already sold every one of them.
Ferrari's calling this special edition convertible — a 599-based roadster featuring the 6.0-liter V12 from the GTO and a "light soft-top" — the "most exclusive Ferrari ever." That's likely true given just 80 units of the new model, designed as a tribute to styling house Pininfarina, on its 80th anniversary this year, will be built. Sadly, according to Ferrari, all 80 have been sold.
Blame the SA Aperta's appearance at a private viewing at the recent Pebble Beach Concours in California — where Jalopnik readers saw it in person — for the pre-sale of every example of the new prancing stallion.