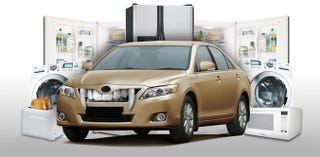 We've long derided appliancelike vehicles for being the wrong answer to the transportation problem. The recent Toyota recalls bring up an interesting question: If you remove the driver from the act of driving, what happens when something goes wrong?
Driving is supposed to be a sensory-based activity, one that utilizes sight, sound, smell and touch to accomplish a purposeful, and often entertaining, task. You watch the world around you, you listen to the sound of rubber meeting the road, you smell the aroma of hot brakes, and you feel how the car reacts as you traverse a corner. Once upon a time, using these senses, ordinary people could diagnose (and often fix) problems. If you didn't know how to fix something, you were still provided with the opportunity to notice an issue — machinery was transparent enough that you could at least say "Hey, something is wrong here," and take your car to someone who could fix it.
Over the course of the past few decades, however, our senses have been usurped by sensors In many cases, tasks that used to be performed by the driver are now accomplished by electronic sensors. You don't look for traffic in the next lane over because you have a lane departure warning system. You don't listen to your car's engine because your car listens for you — if something goes wrong, a light will come on and let you know. You don't even have to learn how to drive a car within the limits of its tires or suspension — electronic stability control takes care of that.
On a fundamental level, a lot of this is unavoidable. If you distill its purpose down, the car doesn't exist to make you happy or involve you in what it's doing; its purpose is to provide clean, safe transportation. Given that, technology creep is inevitable, and a lot of it is for the better — things like electronically controlled differentials and engine management systems that allow for streetable, sky-high horsepower are proof of that.
Still, we can't help thinking that something is wrong.
The problem comes when you dilute the man-machine connection. Toyota, more than any other company, is guilty of this. Even the company's CEO, Akio Toyoda, has acknowledged that excitement is lacking in their product lineup. Get in a new Toyota product like the Camry or Corolla and what impresses you most is the unobtrusiveness of the experience — you can drive 300 miles, climb out of the car, and forget that you were driving at all.