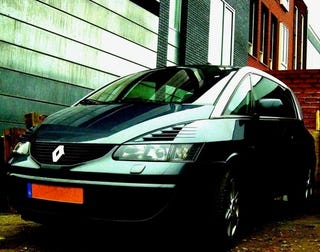 An eccentric, failed French minivan-coupé first owned by a Brobdingnagian sumo champion is actually one of the greatest grand tourers ever made.
Akebono Tarō, a 500-lb, 6'8" tower of a man, became one of sumo's greatest wrestlers in a rather peculiar way.
To an activity which is very hard to top in sheer Japaneseness, he arrived as an American boy named Chad from a life of basketball. It took him less than five years to become yokozuna, the highest rank of sumo champions. As for just how rare that rank is, consider that only 69 wrestlers have ever attained it and all but two of those are either retired or dead.
Renault Avantimes are more common but not by much. Designed and built by Matra, a company which has made everything from missiles to Jackie Stewart's first world championship-winning Formula One racer to weird sports cars, it was unlike anything ever seen before.