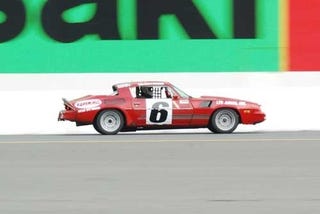 The ChumpCar World Series race was held last weekend at Infineon Raceway and Jalopnik was there to catch all the action.
Infineon Raceway is famous for hosting high-end automobile races like NASCAR, IRL and ALMS. However, last weekend was a bit different. Property values plummeted around the Northern California track as ChumpCar ran their $500 car race at the famed course. It was a historical moment as this was the first time a $500 car race had been held at a track featured on our beloved Gran Turismo (couch potatoes could practice the track virtually).
The ChumpCar race format at Infineon was two separate 7-hour enduros with separate winners (and let's not forget the losers) each day. Team Rubber Chicken Piccata realized that it seems cool to wear a woman's bra over your driving suit, until your car overheats, when you suddenly that realize you're wearing a woman's bra over your driving suit. That's when you feel foolish.
The track layout between Saturday and Sunday changed during the weekend, as scheduled. Saturday's track layout had never been used before and it incorporated the motorcycle corner in turn one and used the NASCAR chute in turn 4. This track layout was extremely hard on pads and rotors. Ever hear of the term "thin to win?" They weren't talking about brake pads. Sunday's course used Infineon's famed Carousel corner.
Racing $500 cars demands endless fixes, repairs and pounds of duct tape. From experience this is how most repairs are done, one guy working on the car and five other guys standing around drinking beer telling the dude that he's doing it wrong. "Hey, Bro, that ain't gonna work." Good times.
If you are sifting through this pile of bolts on the ground, you're weekend is not going well. I saw a lot of teams thrashing on cars and working together during the weekend, trading parts, borrowing tools, and stealing beers from each other.
Oh, yeah, there was racing too. Here are the winners from Saturday:
Team S.A.S. Racing in their number 10 Transmaro drove hard and consistent all day running away with the win by 5 laps. Their best lap was a 1:47:643. Editor's note: This appears to be the infamous Rockford Pile Trans-Camaro that appeared at the 2007 Arse Freeze-A-Palooza 24 Hours Of LeMons race and aroused quite a few suspicions that its "305" engine might be generating a few more ponies than GM intended.