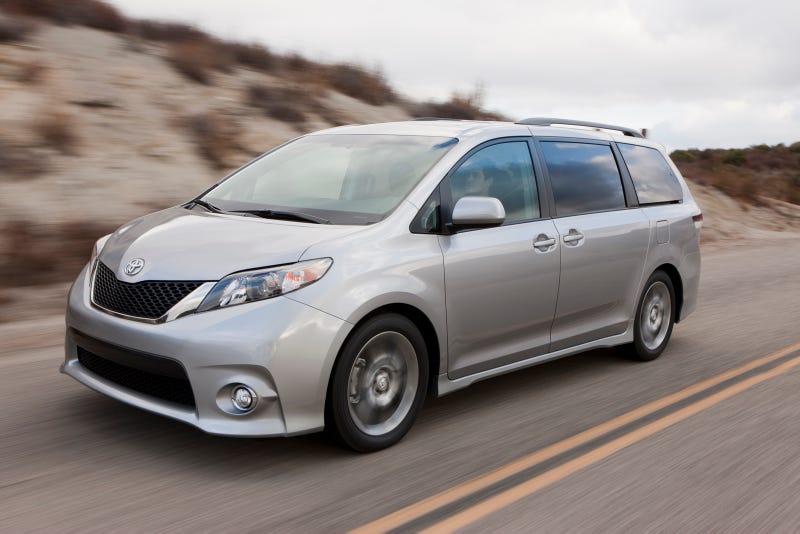 Yeah, we know, this kind of thing isn't really our bag. But the Sienna's chief engineer is a former kart racer who once owned an AE86 Corolla. He wants to make minivans cool. We figured it was worth a look.
Full Disclosure: Toyota flew us to Laguna Niguel, California and put us up in a swanky hotel so we could bring you this review. While we were there, we noticed that Orange County is chock full of DVD-player-equipped minivans. We also noticed that there are intolerably obnoxious young children everywhere. This may or may not have been a coincidence.
His name may mean nothing to most of America, but Kazuo Mori is a charming guy. At the launch of the 2011 Sienna, Toyota's chief minivan engineer gave a cheery, rambling talk on his career, peppering his words with happy-snap slides of his personal life. He likes skiing. He once raced karts. He's been working on Toyota vans for the past seventeen years, but when he was young, he dreamed of designing sports cars.
"I want," he said, "to change the image of the minivan. I want to make it . . . cool."
Given that they come from an employee of the world's largest car company, those words could be tossed off as meaningless hype, the kind of PR babble that launches are built on. Listening to Mori, however, you get the impression that he means it. He also genuinely loves his marque — he once owned a fat-tired AE86 Corolla, and his garage currently holds a second-generation MR2. (When we asked him if it was a turbocharged or naturally aspirated car, he made a face and said, "no turbo." Good man.)
The '11 Sienna is Mori's work. It's also arguably the most important American vehicle that Toyota sells. After meeting the world's most charismatic minivan engineer, we couldn't help but wonder: Is the latest Sienna any good, or is it just a bland refresh of an already beige vehicle? Is it . . . cool?