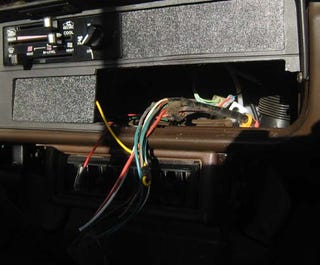 Let's say you park your car in an area frequented by urban entrepreneurs who gather intoxicant-obtainment resources by harvesting car audio equipment from vehicles… yet you still want some tunes in your ride.
It presents quite the dilemma, because even the crappiest cassette deck serves as an irresistible lure, tempting some crackhead to smash your side window with a spark plug and then gouge the hell out of your dash with a prybar while removing his $2 prize. Fortunately, Jalopnik Cheapskate Tips™ have the solution! These days, all you really need is a means of connecting an MP3 player- or even a cellphone with music-playback functionality- into an amplifier driving a couple of speakers.


4-time DOTS honoree WhatWouldJesseDo leaves his super-clean '83 Toyota 4x4 in the parking lot of a local train station each day, and the truck has had its stereo torn out by thieves three times in as many months. Each time, Jesse installed a cheaper, less appealing stereo, and each time he returned to his truck to find the window smashed and a hole in the dash. All he wanted was a way to plug in his iPhone and have music while behind the wheel, yet the truck had to appear completely bereft of anything that might be readily converted into hubba rocks, 40-ouncers, black tar, DMT, or Ibogaine.