You know how you kick yourself over the Car That Got Away? That cheap '70 Chrysler 300H I didn't buy in 1989 was the worst, but the Toyota-engined Austin-Healey Sprite was nearly as painful.
Yes, the car that inspired me to start doing the Project Car Hell series, PCH numero uno, the engine-swapped Sprite that took on the Fiat 850 back in July '07; after posting it, I decided I had to have it. I called the guy up, but it had already been sold. Damn! That'll teach me to post on a car without being 100% certain I didn't want it for myself, I thought at the time… and kept my eyes open for another like it. Then, Oskimba sent me a tip on this Craigslist ad (go here if the ad disappears). It's the same car! Long story short, I bought it, along with many extra parts… and cheaply enough that I can sell some of the extra parts to get the cost into 24 Hours Of LeMons territory if I so choose. For now, I'll be pretty busy making a new wiring harness from scratch (after wiring the totally gutted Black Metal V8olvo I know what I'm in for here), and then I'll need to get the brakes working, and so on. It was being driven on the street as recently as 6 months ago, and it can be started and moved around now, so this project could be more hellish. Long-term, I'm thinking of building up a hairy 22R for it and installing a sturdier rear end… but first things first. Here's the first batch of photos, shot last night after the tow truck dropped it off in my back yard:


G/O Media may get a commission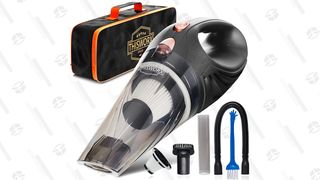 Save 50%
ThisWorx Car Vacuum Cleaner


By the way, the guy who sold me the Sprite has quite a collection of Jalop-worthy machinery, so many that he can be forgiven for not finishing this project. How about an original 500-mile '61 Volvo Amazon wagon? Or a vintage-racer 1912 Model T? Perhaps a genuine crashed-in-the-original-series Dukes Of Hazzard '69 Charger, parked next to a cherry Stage 1 Buick GS, parked next to an IHC Scout? Yes, all those and much more, and I'll be posting some photos in the near future.