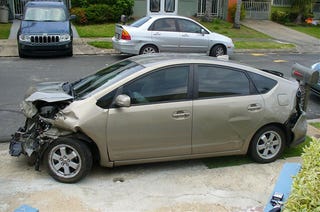 When a Toyota Prius experiences sudden, unintended acceleration, media reports call it "an unexpected adventure." We seem to recall when Jeeps did the same thing they were called "death traps" and "dangerously deadly."
While it's likely a few Prius models have experienced strange mechanical issues, the evidence is primarily anecdotal. Of course, most mechanical "issues" usually start out as "anecdotal." Regardless, let's take the story of Bobette Riner. Note our emphasis:

The car had a "cute little body" that Riner loved, and she reveled in driving like a "nerdy Prius owner," watching the energy usage display on the car's center console, trying to drain every possible mile from a gallon of gasoline. [...] Traffic near the mall was congested but moving, and Riner kept the Prius pegged at 60 mph, constantly looking at the console to manage her fuel consumption.

Suddenly, she felt the car hydroplaning out of control, and when she glanced at the speedometer she realized the car had shot up to 84 mph. Riner wasn't hydroplaning; quite simply, her Prius had accelerated on its own.
Gee, you think those two things — "constantly looking at the console" and "hydroplaning out of control" might be linked? Regardless, Toyota's response was to replace the floor mats, which they say can interfere with the gas pedal. Still, there's no doubt the Prius is still a silent killer.