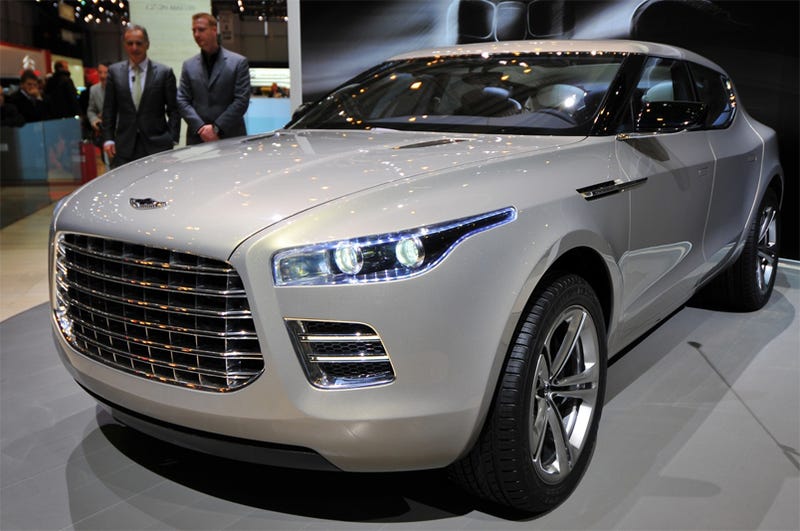 After a nearly 18 year absence, the Lagonda has finally returned. Aston Martin revealed the new Lagonda Concept today at the Geneva Motor Show and it's...a crossover??
When we first heard of a revival of the storied luxury brand, Lagonda, we envisioned big, classy exotic sedans with ridiculous proportions and enough sex appeal to spare. The last thing we expected to see was an SUV, no matter how intensely styled it may be. Aston Martin states in their excuse ahem, press release, that the Lagonda Concept's intention is to enter the marketplace with a 'unique performance avant-garde luxury product.' Wait a minute. Didn't Porsche already do this? Something about a pepper of some sort? It might just be our imagination, but this is hardly a unique vehicle. For Aston Martin yes, but for the world - No.
Getting past our initial disappointment will be difficult, but the overall form of the Lagonda Concept is quite beautiful, with the exception of the 'Hannibal Lectre' grille, as it shall be called from this point on. The four-wheel drive, four-seat Lagonda does have some redeeming qualities about it, most notably being the unconventional rear section that appears to be more Bentley than anything else. If you cover your hand over everything from the belt-line down, the Lagonda Concept has a hint of SAAB in it, but that's not necessarily a bad thing as they've basically created a design that SAAB should have tried with the 9-4X.
Unfortunately, as one brand slowly kills itself another will be born and according to Aston Martin Lagonda Chief Executive, Dr Ulrich Bez:
"The Lagonda is the luxury car of the future."
If this is true, then we welcome back the Lagonda nameplate, but please bring us some of those wildly proportioned exotic sedans that we mentioned earlier and don't just re-badge the Rapide while doing so. Thanks Aston!