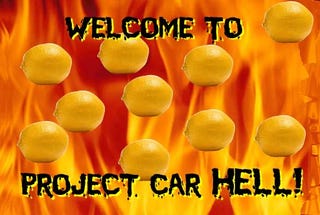 Welcome to Project Car Hell, where you choose the project that's the coolest... and most hellish! Are you thinking of entering the Buttonwillow Histrionics 24 Hours Of LeMons, but just can't find the right car?
I hear a lot of potential 24 Hours Of LeMons entrants whine about the supposed impossibility of finding any running car for under 500 bucks: "You can't even get a thrashed Taurus for that kind of money!" Bullshit, I say! Even if you rule out the option of selling $300 worth of parts from an $800 car, you can still find plenty of seriously LeMons-worthy machinery that will fit your budget. With that in mind, tonight we're going to have 10 choices- the largest number ever offered in Project Car Hell history- and every one of these vehicles is located within a day's drive of Buttonwillow Raceway Park. You've got six months, you've got a bunch of suckers friends to join your team, and now it's time to go race car shopping! Note: if any of the original Craigslist ads disappear, just go to the gallery at the bottom of the post for screenshots.


1. 1978 Jeep DJ5
Do you want to be just another team with a soporific Sentra or coma-inducing Camaro, or do you want to stand out? You don't need to go very fast to put in a strong showing at the 24 Hours Of LeMons; all you need to do is keep grinding out the laps. With that in mind, how about a machine that will let neither snow nor rain nor heat nor gloom of night stay your drivers from the swift completion of their appointed rounds? Frankenstein up some fat swaybars onto this lightweight two-wheel-drive box and it definitely won't might even put down some respectable lap times!


2. 1987 Renault GTA Convertible
In theory, the extra chassis bracing in a convertible will make for an extra-stiff platform, once you get a roll cage installed, and of course there's the comfort factor of having those cowshit-scented soothing Buttonwillow breezes flowing past your helmet while all the other drivers swelter in their steel prisons. What you need is the hot-rodded ragtop version of the Renault 9-based Alliance, with 95 front-drive horses and Franco-Kenosha build quality. This one is just 300 bucks, and it seems pretty close to being in running condition: "i drove where it parks and i think it needs a fuse but easy to fix." Remember, French cars have a massive head start at the Index Of Effluency trophy!


3. V6 4X4 Geo Metro
An engine-swapped Geo Metro won the last LeMons race, so you know it's a superior formula. But what you really need in a racing Metro is four-wheel drive! Imagine the advantage you'll have when the track gets covered with dirt, oil, and shards of Porsche connecting rods, as you pilot this fine GM 2.8 V6-powered machine to victory. The project isn't exactly what you'd call "finished" yet, but it's not even close well on its way; what you get is a shortened Chevy S10 chassis with a Metro body sitting (loosely) on top of it. How much? 450 dollars in Trilateral Commission-approved fiat currency... or firearms... or GOLD.