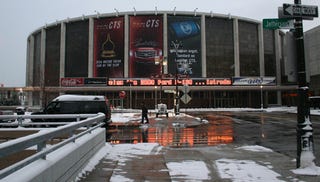 In a pivotal year for the car industry the Detroit Auto Show is more important than ever. Below we prview the announcements, trends and reveals we expect in the next three days.
This Detroit Auto Show is the chance for automakers to prove themselves to their investors, the public and, in the case of the Domestic automakers, Congress they're here to stay. How do they do this?
All automakers will show relevant product and make a case for why people will want to buy them so we'll write about how big of success they'll be. This year the automakers will have the further challenge of convincing everyone they're on to the next big thing in green technology, which means market-bound hybrids like the Honda Insight and crap made up by Chrysler.
The not-so-Big Three have the added challenge of convincing everyone they're not dead, yet. For Ford this means showing off blowing their load on a huge rollout of new product for their brands. General Motors will be showing market-bound cars we've already seen plus at least one semi-reasonable green car. Chrysler will almost surely paint an incredible picture of futuristic vehicles as well as new features for their tired product.
The biggest news? Don't be surprised if the Chinese steal the news cycle on Monday when both Brilliance and BYD hit the floor, and not because of their incredible swag. The contrast between everyone's space-age hybrids, like the Volt, and the reality of BYD's superior production F3DM is likely to be a popular story line.