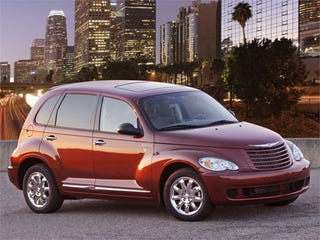 The Insurance Institute For Highway Safety has retested the most popular small cars in America and the good news is they're getting safer. The bad news comes if you own a PT Cruiser.
The IIHS tested seven 2009 model-year small cars and discovered most carmakers are doing a better job of keeping people from dying in their compact offerings. Every vehicle received a "Good" rating in the front tests, though received mixed performances in the side and rear tests.
The best performer overall was the Suzuki SX4, which received a "Good" side rating and a "Marginal" rear crash rating, followed by the Toyota Matrix/Pontiac Vibe. The 2009 Ford Focus was the only car to achieve a "Good" rating in the rear crash test.