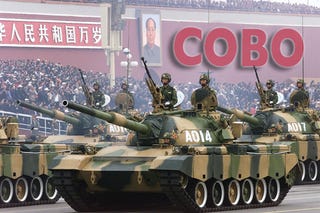 After years of skirmishing in the basement of the Cobo Center, the Chinese automakers will finally set up a base on the main floor of the upcoming
Detroit Auto Show
. Why were the two Chinese companies,
BYD Auto
and
Brilliance Auto
, honored with the presence among the big boys upstairs? It isn't because they're selling more cars in the US, because they still don't sell any here. The Chinese automakers are benefiting from the
mass exodus
of automakers from the Detroit show who are bailing to save money during the
Carpocalypse
. We suspect the organizers thought it would be a nice gesture since China currently holds around $600 billion in US debt. The two companies will get a total of 11,000 square feet vacated by Mitsubishi. Though we hate to see any automaker flee Detroit, there are a few reasons to look forward to a larger Chinese presence. Below is our list of the five best moments of Chinese automakers at the Detroit Auto Show.
5. Travis Exploits The Book Of Songs
We have the Chinese to thank for showing us their
Book of Songs
and letting Travis hump it.
4. Press Release Translations
For some reason, the Chinese automakers refuse to hire US-based PR people to smooth out the edges.
Hilarity ensues
.
3. An Honorary Degree
Had it not been for Changfeng Motors, Mike would never have gotten that
honorary degree
from Liebro University.
2. Lead-Tainted Tea Time
Unlike the American manufacturers, with their typical matchbox car and backpack swag, the Chinese automakers hand out some
intense swag
.
1. Illegal Test Drive Through Cobo Hall
If it weren't for the Chinese, we'd have never learned
how fast you can drive inside Cobo
or had the chance to disrupt an ALMS press conference. In a hybrid! [
AutoNews
, Photo ROBYN BECK/AFP/Getty Images]