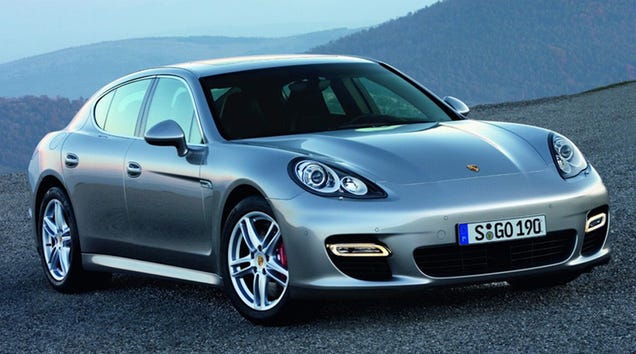 Photos of and details about the
Porsche Panamera GT
, the company's first modern effort at creating a four-door sedan, have officially leaked all over the web and it looks exactly how we expected it to look. From what we can gather from Google Translator and
Auto Telegraaf
, the Panamera will first hit the shores in Panamera S and Panamera Turbo trim, each fitted with a 4.8-liter V8 putting out 400 HP and 500 HP, respectively. Both will also get Porsche's PDK 7-speed dual-clutch gearbox.Though no diesel version is likely to see production, a 3.6-liter V6 option good for 300 HP and a V6-electric hybrid are in the works for sale at a later date. Given the sedan's
unique
look, the production numbers seem quite optimistic.
UPDATE: Full press release after the jump!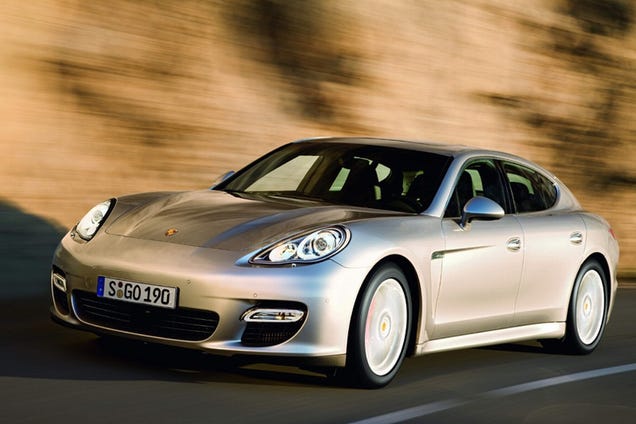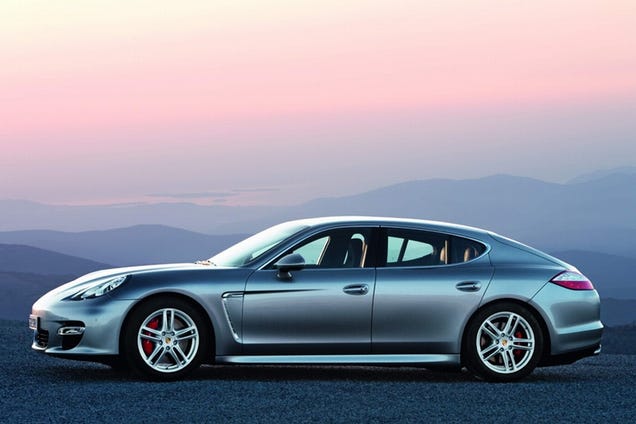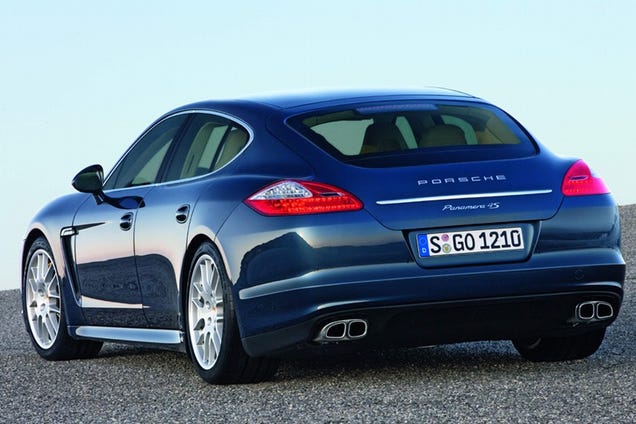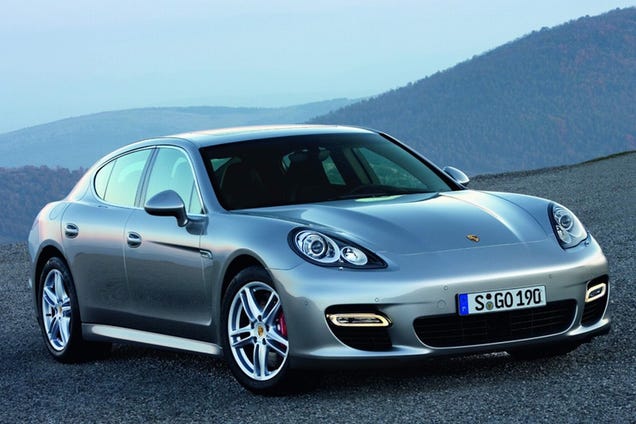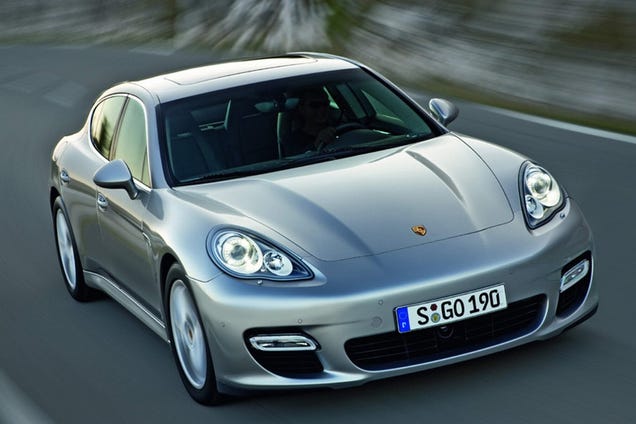 Emboldened by their success with the Cayenne SUV, Porsche is planning to sell 20,000 Panameras globally each year, with approximately 20% of these as the top-of-the-line Panamera Turbos. These sedans are going to be quite large if, as the leaked information states, the vehicle is actually 16.3 feet long and 6.3 feet wide. By comparison, a new 5-series BMW is only 15.9 feet long.
PORSCHE PRESENTS FIRST PHOTOS OF THE PANAMERA GRAN TURISMO Worldwide Debut in Spring 2009 ATLANTA November 24, 2008 —- Three-quarters of a year prior to market launch, Porsche has released the first official photos the new Panamera. Porsche's unique four-seater was conceived and designed as a four-door grand touring sports car, combining numerous talents in typical Porsche style: sporting driving dynamics, a spacious interior, and the supreme comfort of a Gran Turismo. Joining the 911, Boxster and Cayman sports cars as well as the Cayenne SUV, the Panamera is Porsche's fourth model series. The Panamera designers have succeeded in positioning it as a brand-new and truly different model while retaining the looks of a typical Porsche. Through its proportions, the Panamera stands out in its market segment: measuring 76 inches wide and 55.8 inches in height, it is wider and lower than comparable four-door models. The unmistakable GT silhouette is created by the car's overall length of 195.7 inches and short, sporting overhangs. In its styling and details, the Panamera follows the design philosophy refined over decades on the 911 and successfully implemented on the Boxster, Cayman and Cayenne. Pure Porsche DNA and comfort for four Through its design language, the Panamera establishes a new segment. The symbiosis of sports car DNA derived from the looks of a coupe, the unique interpretation of the classical saloon body and the benefits of a variable space concept give the new Porsche a truly unmistakable appearance. For instance, Panamera comes with strongly contoured air intakes instead of a conventional radiator grille. Striking wheel arches and the long and sleek engine compartment, with the distinctly contoured wings flanking the flat front lid, create the typical 911 "landscape" Porsche customers have appreciated for over 45 years. V-shaped seams along the hood and a rear window that tapers like an arrow to the rear also are characteristic of a sports car. Muscular shoulders over the rear wheels, the sweep of the coupe-like roofline and visible tailpipes again bear the thoroughbred Porsche DNA. An elegant roof arch extends over the generous interior. Thanks to the unique and sporting architecture of the interior, the car's occupants are able to experience a cockpit-like atmosphere from all four seats. All occupants enjoy supreme comfort in both the front seats and the two contoured rear seats. The luggage compartment easily takes all passengers' luggage; the Panamera's variable space concept with folding rear backrests enables driver and passengers to adjust the luggage space to individual requirements. Finally, the coupe tailgate in the sporting rear end combines everyday usability with stylish elegance. Panamera built in Leipzig; powerful engines hail from Zuffenhausen Porsche has developed powerful and up-to-date engines for the Panamera, reflecting the qualities typical of the brand; the V-engines come with six and eight cylinders and output ranges from 300 to 500 horsepower. Some engines use turbocharging technology and Direct Fuel Injection, making them both fuel-efficient and very powerful. Power flows to the wheels through either a manual six- speed gearbox or Porsche's seven-speed PDK Doppelkupplungsgetriebe, or Double-Clutch Gearbox. In addition to rear-wheel drive, the top version of the Panamera comes with even more sophisticated all-wheel drive, available on other models as an option. Porsche also is preparing a fuel-efficient version of the Panamera with hybrid drive. Further details on engines, transmissions, performance, prices and equipment will be disclosed next spring. The Porsche Panamera will be built at Porsche's Leipzig plant, where a 237,000-square-foot production hall and a logistics center currently are under construction. While the Panamera engines are built at Porsche's main plant in Zuffenhausen, painted bodyshells will be supplied by Volkswagen's Hanover plant. The Leipzig plant will then assemble the Panamera for final delivery, with an annual sales target of about 20,000 units. Porsche is once again cooperating with German suppliers, with some 70 percent of the car's components being created in Germany. The Panamera will make its world debut in spring 2009 and the first models will be at U.S dealers in the fall of next year. Porsche Cars North America, Inc. (PCNA) is based in Atlanta, Ga., is the exclusive importer of Porsche sports cars and sport utility vehicles for the United States. It is a wholly owned, indirect subsidiary of Dr. Ing. h.c. F. Porsche AG, PCNA employs approximately 250 people who provide Porsche vehicles, parts, service, marketing and training for its 202 dealers. The dealers, in turn, provide Porsche owners with best-in-class service. Throughout its 60-year history, Porsche has developed numerous technologies that have advanced vehicle performance, improved safety and spurred environmental innovations within the automotive industry. The company continues to celebrate its heritage by adding to its long list of motorsports victories dating back to its first 24 Hours of Le Mans class win in 1951. Today, with more than 28,000 victories, Porsche is recognized as the world's most successful marquee in sports car racing. PCNA, which imports the iconic 911 series, the Boxster and Cayman sports cars and the Cayenne sport utility vehicles for the United States, strives to maintain a standard of excellence, commitment and distinction synonymous with its brand. ###
[
Supercars.net
,
Auto Telegraaf
via
CarScoop
]