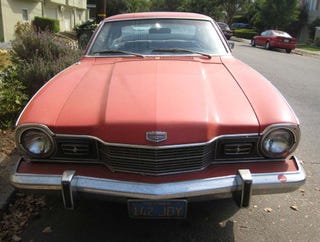 Welcome to
Down On The Street
, where we admire old vehicles found parked on the streets of the Island That Rust Forgot: Alameda, California. We saw a
'65 Mercury Comet Caliente
last week, and before that the
'65 Comet 202
and the
'64 Comet Cyclone
. No shortage of Falcon-based Comets on the island… but how about the
Maverick
-based Comet? Mavericks themselves, sure- a
'70
and
two
74s
- but now we're going to look at our first Malaise Comet.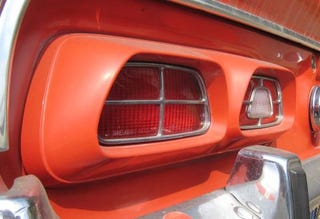 The Mercury Division couldn't do a whole lot to de-Maverickize the Comet, but they were able to get these distinctive taillights on the car. Sure, they hurt your eyes even after 35 years, but they're definitely
of their time
. I found this car less than a block from the
'65 IHC Travelall
.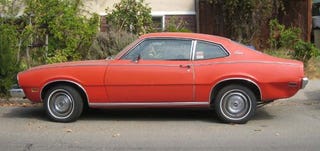 The '73 Comet 2-door listed at $2,432, which was 102 bucks more than the equivalent Maverick (and $55 more than a 2-door base Chevy Nova). The 200-cubic-inch inline six engine was standard, but you could upgrade to the 250 six or even the (138 horsepower) 302. Now if I could only find a
Comet GT!