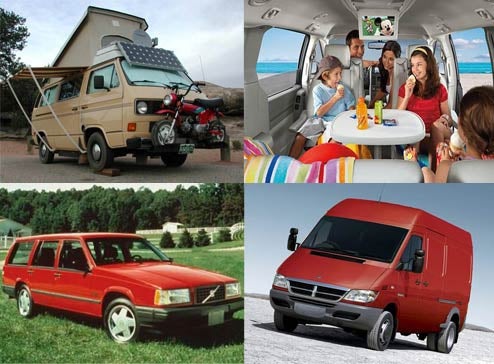 As shelter is the largest single expense for most people, the ongoing "Financiapocalpyse " could see more people trading that Tudor for a four-door. As your guides through this challenging time, we've identified ten cars you'd be happy to call home until your 401k is worth more than the postage used to send you those depressing reports. These rides are comfortable, affordable and most importantly, you can probably sleep in it. With car sales dwindling, now may be the best time to invest those dwindling funds in a home on wheels.
10.) Volkswagen Golf/Rabbit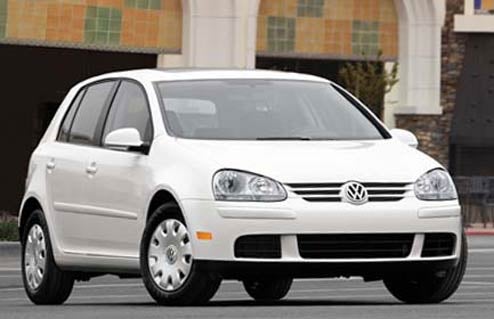 The Volkswagen Golf-cum-Rabbit is the kind of home-on-wheels designed for a hip bachelor or bachelorette down on their luck. Though not enough room for a family, the smartly-designed hatchbacks have always offered style and storage at a reasonable price. The four-door models are ideal for urban campers who want to curl up in the backseat but still have street cred with people who don't know they're living on the street.
Price New:
$17,575 (base four-door)
Price Used:
$5,000 and up (Mk III - Mk IV)
9.) Mazda Mazda5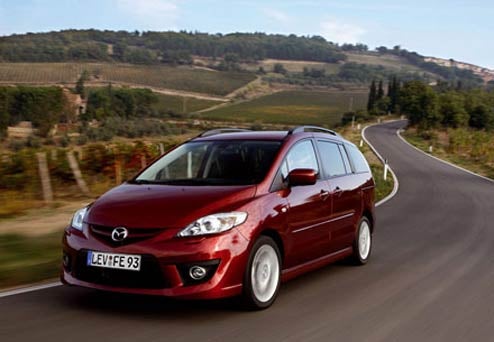 The Mazda5 may seem like an unconventional choice for a live-in automobile, but it offers a lot for a little. Based on the sporty Mazda3 platform, the Mazda5 has the benefits of a small economy car: good mileage, low cost-of-ownership and affordability. It also offers some of the benefits of a minivan: sliding doors, three-row seating, fold-out table, under-floor storage and fold-flat seats. The possibility of getting one with a manual, no longer a possibility with most vans, makes it the perfect choice for a down-on-their-luck dad who still likes to drive but may have to outrun creditors.
Price New:
$18,665 (base)
Price Used:
$12,500 and up
8.) Ford Econoline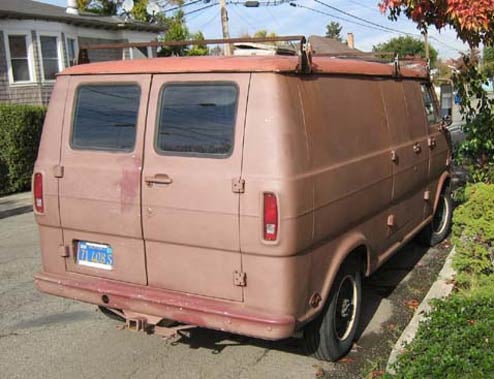 We imagine people have been jamming Econoline as long as people have been living in vans. They're cheap. They're big. They're available in a privacy-enhancing panel version. When Chris Farley's motivation speaker said he was "living in a van down by the river" he was almost certainly talking about a Ford Econoline. The panel version is the cheapest model and, though it lacks carpeting, has ample room for an air mattress or stolen love seat. A top-of-the-line conversion Econoline from the 1980s can be had with a TV/VCR combo, reclining bed, wood inserts and velour drapes. If it's good enough for
Mike Watt
, it's good enough for us.
Price New:
$23,940 (E-150)
Price Used:
$3,000 and up
7.) Honda Element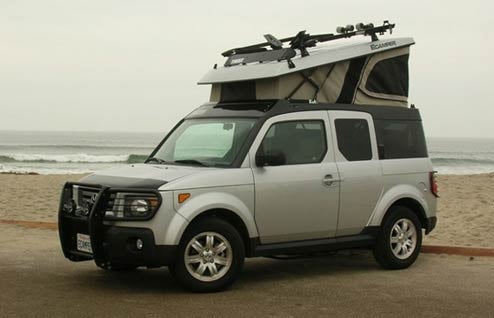 The Honda Element may be one of the most configurable cars available. The SUV with the soul of a Civic, the Element's seats can be stowed, laid-out or removed as necessary. All of the Honda's seats can be folded backwards to create two long, thin beds. This is the ideal living space for a close couple not willing to face the harsh elements outside of an Element. Additionally, the water resistant interior means that you can hose off the interior after it collects the various liquids of life. Those with a little extra dough can get an
ECAMPER
conversion for a true camper experience.
Price New:
$20,990
Price Used:
$8,500 and up
6.) Chevy Suburban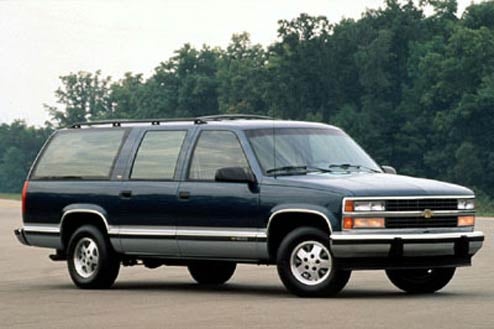 There have been a few large SUV models in America's history, but none of them have lived as long as the Suburban, which holds the record for longest continuous nameplate in production. That's good if you're looking for parts for your new home. An increase in gas prices has caused an increase in availability and a decrease in price (the base model came with a 5.7-liter V8). Now that gas prices have dropped along with the economy, it's now even affordable to drive. At over 18-feet long, the Suburban's interior rivals some small studios. The GMT400 models from the 1990s could have come with the 6.5-liter diesel, which is perfect for long nights of idling to keep the heat running. Older models are tough and cheap while newer models get more expensive but offer more in the way of creature comforts.
Price New:
$40,820
Price Used:
$2,500 and up (GMT400)
5.) Volvo 740 Wagon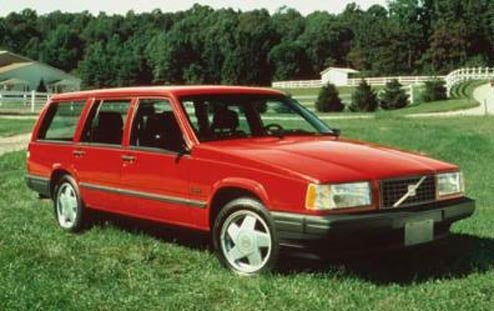 A Volvo station wagon is a great choice for a family looking for a safe place to live and the Volvo 740 is perhaps the best balance of value and space. Nearly 16-feet long, the early 1990s models run cheap and aklthough not fast, they're quite roomy. Most importantly, the build quality and reliability of the last model years of the 740 are among the highest of any vehicle Volvo's ever built. When you get kicked out of your gated community you can also use it to sneak back in as a soccer mom and not as someone who uses a soccer ball for a pillow.
Price New:
N/A
Price Used:
$2,000 and up
4.) Dodge Caravan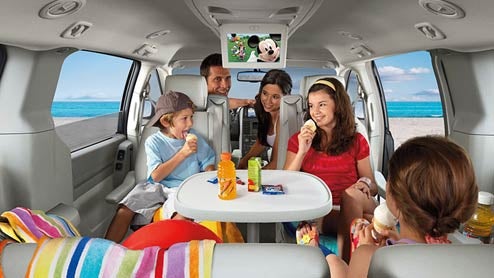 What better way to celebrate your new life in a failing economy than buying a car from a
failing automaker
? Kids love the Caravan because of the cool features, like the fold-out table, DVD player with A/V hookup for the video games, fold-flat seats, tall roofs and many storage spaces. When the kids ask why they spend all the time at the beach and never go home just tell them it's like that vacation you took to Florida.. except it never ends. A small family could do much worse than life in a Caravan or its ritzy Town & Country brother, though we recommend a third generation if you want all of those features.
Price New:
$28,500
Price Used:
$14,500 and up (third gen), $2,500 and up (second gen)
3.) Ford Flex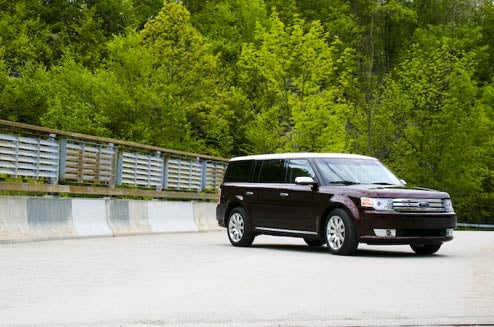 The automotive gypsy lifestyle once meant big vans or SUVs but the era of the crossover is here. Balancing van-like space and amenities with car-like handling, the crossover could be the sleeping place of choice for the next Great Depression. The
Ford Flex
might be the best choice for those who may soon be evicted but are currently of some means. The long, seven-seater Flex offers space, comfort and luxury in a package that looks like a house. Throw in a fridge in the second row console that can fit a six-pack of beer and you've got quite a home.
Price New:
$28,295 (base)
Price Used:
$25,000 (or even as low as $7,500 off of a repossession. How meta is that anyway?)
2.) Volkswagen Vanagon/EuroVan Westfalia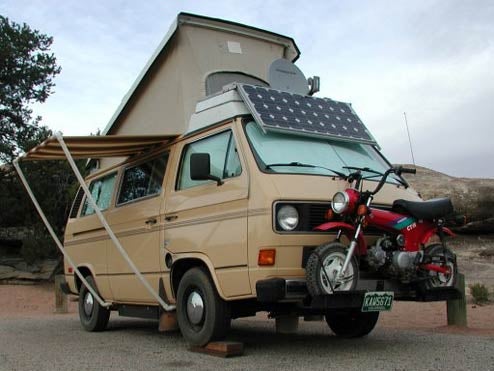 The
Westfalia VWs
were designed for living for, though not necessarily for extended periods of time. Offered through VW, the Westfalias were essentially a
Volkswagen Vanagon
or EuroVan with a camper top that folds out to create a living space. Many also came equipped with small refrigerators, stovetops, sink and other appliances. The Vanagon pictured above was created by
this guy
to be an all-season living space. They no longer sell the Westy here in the US new, so you'll have to find one on the used market.
Price New:
N/A
Price Used:
$6,000 and up (Vanagon) $12,000 and up (EuroVan Weekender)
1.) Dodge Sprinter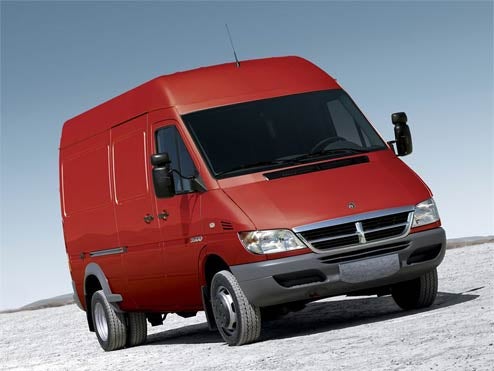 There's really nothing like a
Dodge Sprinter
commercial van if you have to live your life on wheels. Daddy Coppola turned one into a
portable studio
and we'd be proud to live in one. Based on the Mercedes Sprinter van, this is the Mercedes of commercial vans. At nearly 23-feet long, nine-feet tall and six-feet wide the cargo area of a Sprinter is a cave. Throw in a 3.0-liter turbodiesel V6, 12-volt power outlet and a hydraulic jack and you're traveling the US in comfort. For real style you can convert your Sprinter into a
Mercedes
with a few cheap trim pieces. In extended form there's enough room in the back for a bed, small couch, table and desk. High-mileage, used cargo versions can be found at quite a reasonable price. And, we hear it may actually be bigger than Wert's entire place in Manhattan — and for 1/10th the price new!
Price New:
$42,170
Price Used:
$14,000