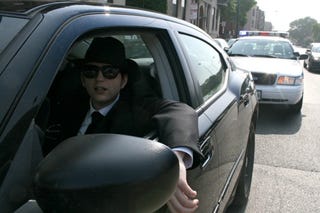 Almost everyone likes speeding, but very few people like speeding tickets. We don't condone breaking the law, but if you found it necessary to convince an officer of your innocence, this is how you would do it.

This is Flashback Friday, a weekly feature where we republish classic stories from the Jalopnik archives. Think of it as Jalopnik's "Best Of"' series. We chose this particular story because summer is speed season, and because a certain Jalopnik staff member recently had a friendly run-in with the state police. -Ed.



There's nothing fun about being on the receiving end of the question: "May I see your license and registration please?" Although we don't condone it occurring on public roads, as automotive enthusiasts, whether you drive a Se7en or a Sentra, speeding in a controlled and safe manner in front of the police occasionally happens. Fortunately, whether you get a ticket, a warning or a pass is completely at the discretion of the officer that pulls you over. For this reason, we've surveyed your experiences and identified ten strategies that seem to have worked the best.