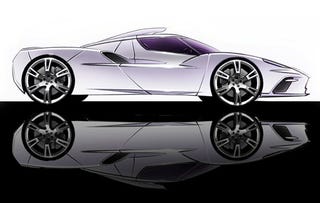 Back in 2006,
Arash Farboud
was snubbed by Ferrari when he requested a shiny new
Enzo
. Apparently they didn't feel the inherited fortune made in pharmaceuticals was enough to make him Ferrari material. Undaunted, Arash decided to pull a Deuce-move and thumbed his nose at Ferrari, building his own supercar. He pulled together the
Farbio GTS
as a proof of concept, and for the British Motor Show unveiled a concept car called the
Arash AF10
, a carbon fiber, Corvette-powered Enzo killer. Since then, things have been quiet, but according to
Car
, that doesn't mean nothing's been happening.
They report Arash has been scratching away at the project, lining up suppliers and orchestrating development with a plan of introduction and production beginning this fall. The heart of the mid-engined car is a massaged 7.0-liter V8 straight out of the Corvette Z06. The transmission comes from Graziano, supplier of the Enzo's gearbox, though in this case it's a row-your-own instead of a glorified automatic. That carbon fiber chassis is built by bonding and riveting together 12 individual pieces, cutting down production time and cost. Still, the total weight is targeted at 1,200 kg, or about 2,650 pounds, so with a mid-mounted 530 HP mill, the Arash should be a screamer. The plan is for the finished car to be revealed at the British Motor Show with limited production following shortly thereafter. Price tag? About $300,000. Take that and stick it in your pipe, Ferrari. [
Car Magazine
via
World Car Fans
]