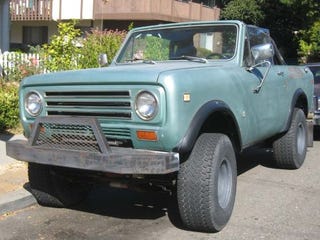 Welcome to
Down On The Street
, where we admire old vehicles found parked on the streets of the Island That Rust Forgot: Alameda, California. Alameda has a fair number of International Harvester vehicles (we
had a Favorite DOTS IHC poll with the last one
, and the
1948 KB-2 pickup
won), most of which seem to get regular driving time. Today we're going to check out a no-frills truck that's
eager
for the collapse of civilization, at which point it will become more valuable than all the Rolls-Royces and Lamborghinis in the state put together.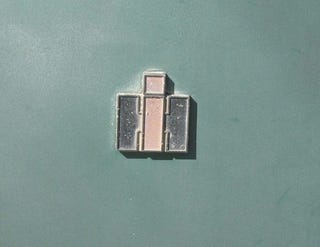 Most of the time, when I see a jacked-up 4x4 with big mud-slingin' tires in a context as distinctly urban as this, it strikes me as a
silly
vehicle. Not so with an International Harvester!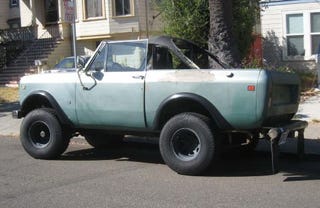 This Scout might not be a '72, but the
grille
is a '72. No doubt some parts have been swapped here or there, so there's no telling at a glance.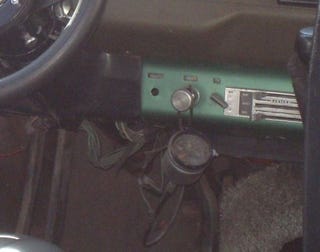 If it
is
a '72, the available engines were a (non-AMC) 304 V8 and a 196-cube four-cylinder. Base price with four-wheel-drive was a mere $3,340, midway between the $3,588 list for a Bronco wagon and the Blazer's $3,145 price tag. I'm pretty sure the vacuum gauge dangling from dash was a non-factory option.