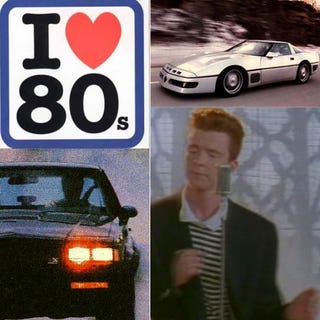 We love the '80s and not just for Rick Astley, Members Only jackets and New Coke. All that's well and good, but what we really love can be described in one italicized, chromed plastic-emblemed word: TURBO. The 80's economy forced automakers to use weaker and smaller engines, so to boost power we all turned to MacGyver-rigged turbochargers. With all that super turbo potential out there, it was hard for us to come up with a top ten list of the most totally awesome turbocharged American cars from the 1980s — but nonetheless, we did. Ogle the 80's heart-action, then tell us which is your favorite in the poll below.

Chevrolet Corvette B2K Callaway Twin-Turbo


We all know about the legendary "Sledgehammer" pictured here. With over 880 HP and a top speed of 254 MPH, it was the poster child for Callaway's Twin-Turbo systems. If you wanted your own, you could actually order a similar package by checking the box for option B2K when ordering a Corvette at your Chevrolet dealership. Granted, the price of the twin-turbo system cost nearly as much as the car itself, but you did get 382 HP and a monstrous 562 lb-ft of torque from your 5.7-liter V8.
Buick GNX


The ultimate evolution of the Buick Grand National, the GNX is pure badass. An intercooled, specially-made T3 turbo put up to 15 PSI of boost into the 3.8-liter V6. The official rating from the General was 276 HP. In reality, an unmodified GNX would make about 300 HP and 400 lb-ft of torque. Combine that with trick underpinnings, and the all-black Buick would go 0-60 in well under five seconds. We like it so much that there's one of the 547 examples in our Jalopnik Fantasy Garage.