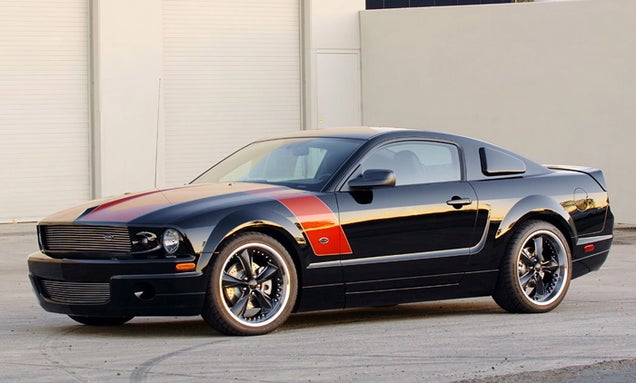 S
We had some other things on our mind a couple of weeks ago, so we've got to apologize to the man, the myth, the marketing maven that is Chip Foose. Foose announced earlier this month his newest creation, the Mustang-derived Stallion, is now available for purchase at all sorts of local FoMoCo dealerships. The Stallion, distributed to dealers by way of Unique Performance, includes all sorts of "unique" performance enhancements like a Ford Racing exhaust, suspension and a "power pack" from Ford Racing that includes cold air induction and ECM recalibrated for premium fuel for an estimated 335 hp. You can also tell Chip's put his manly n' meaty hands on the now Foose embroidered seats, custom sill plates and a signature logo on the dash. Plus, it's got the upper and lower billet grille and those big ol' 20-inch Foose Nitrous wheels so you can spot it from at least some of the other Mustang variants in your dealer parking lot. We're not exactly sure of how to order one of them — but you may want to try walking up to the front of the store and yelling at a security camera, "I've been Overhauled!" Gallery below and full press release after the jump. – Ray Wert
FOOSE STALLION MUSTANG NOW AVAILABLE THROUGH ALL NORTH AMERICAN FORD DEALERSHIPS



DALLAS - January 5, 2007 - Unique Performance has expanded distribution of the Foose Stallion Mustang by introducing a new base model for all North American Ford Dealerships. Deliveries of the first Foose Stallions began in June 2006 and demand has steadily grown for the stylish, high performance pony car over the past six month. Response to the Foose Stallion led Unique Performance to introduce additional models at SEMA in November 2006.

Designed by Foose and built by Unique Performance Concepts, all custom versions of the Ford Mustang were recently only available through Ford select dealers. Unique Performance Concepts is a joint venture between Unique Performance and the Tecstar Automotive Group, a subsidiary of Quantum Fuel Systems Technologies Worldwide (Nasdaq: QTWW).

"The Foose Stallion is responsive and fluid, powerful and dynamic, superbly crafted and unmistakably Foose in every element of its design," said Unique Performance President Douglas Hasty. "During the first few months of production, many consumers have asked for additional versions of the car. This new base model expands the Foose Stallion models available so drivers now have the opportunity to own an even rarer custom car."

Available in coupe and convertible configuration, the team enhanced the handling, styling and capabilities of the current Ford Mustang to create the Foose Stallion. Performance enhancements include a Ford Racing exhaust and suspension and 11-inch rear and 12-inch front DecelaRotors. In addition, Chip's touch can also be found throughout the Stallion. From Foose embroidered seats and Foose sill plates to the Foose ID plate and signature logo on the dash, the famed designer put his stamp on this modern muscle car. Rounding out the modifications is an upper and lower billet grille and 20-inch Foose Nitrous wheels. This base package is available at a MSRP of only US$36,365.00.
Related:

More on the Foose Stallions for 2007 [internal]