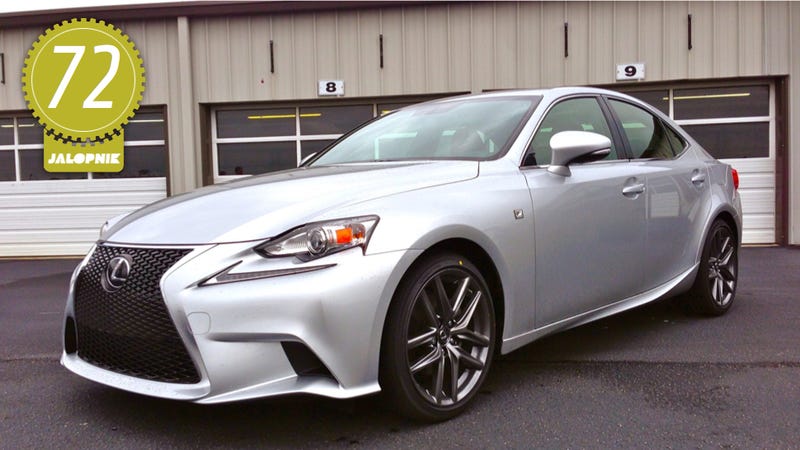 The entry level luxury sport sedan game is mad fierce, y'all. In that segment the Lexus IS has always been the kind of car that finishes solidly in the middle of the pack. With a (mostly) new IS for 2014, Lexus aims to change that.
(Full disclosure: Lexus needed me to drive the 2014 IS so badly that they flew me to North Carolina and put me up in the Pinehurst Resort, which is famous for something called "golf." I'm not too familiar with "golf," but it's on TV a lot when I'm trying to watch racing. Also, they paid for all my booze and fed me a ton of delicious locally grown food, and let me hang out with PBS' Roy Underhill, who's a really cool guy.)
This time around, they say their goal is to make the most fun to drive car in its class. I know what you're thinking: Fun? Drive? Lexus? Ffffwhaaaaa?
It sounds ludicrous, but under the direction of Akio "Not All Of Our Cars Have To Be So Goddamn Boring" Toyoda, Lexus seems intent on spicing things up visually and dynamically.
And the new IS has much to make up for. The first one was a conservatively attractive, compact rear-drive sedan and wagon notable for the fact that it had the straight six from the Supra (minus the turbos) under its hood. It's a popular tuner car these days, but it never really caught on with the luxury-buying masses back when it was new.
The next one got bigger and blander, and while the jazzed-up IS-F could be a hoot to drive, the car still wasn't truly a winner in the segment. To date, the IS' most notable contribution to the automotive landscape has been the Altezza light, and is that really anything to be proud of?
But with this new IS, Lexus finally made a real competitor. It's a car that's better than its predecessor in every conceivable way, and one that I enjoyed driving a lot more than I thought I would. The IS is no longer an also-ran in the luxury sport game.
Like its predecessor, the new IS comes in one of two flavors: the base IS 250, with a 2.5-liter V6 rated at 205 horsepower and 185 lb-ft of torque, and the IS 350, which has a beefier 3.5-liter V6 putting out 306 horsepower and 277 lb-ft of torque. Both are carryover engines from the outgoing car.
With these direct-injected V6s, Lexus is bucking the trend of using a turbocharged four-cylinder as the base engine like BMW, Cadillac, Audi and others, but Toyota as a whole has been hesitant to embrace forced induction. As before, the IS can be had in rear- or all-wheel-drive, though the convertible IS-C version is now gone, much to the chagrin of probably no one.
To put the new car through its paces, Lexus brought us to the Rockingham Speedway, where they used to run NASCAR Sprint Cup races until about 10 years ago. It proved to be a great place to test the IS, and for comparison purposes, they let us toss around a near-new 2013 Lexus IS 350 AWD too.
The old IS' squirrely steering, awful driving position and extremely questionable brakes meant it had absolutely no business being on a racetrack, although in some ways it was more fun to drive than the new car in a weird "I'm about to crash and die LOL" kind of way, if that makes sense. YOLO.
The 2014 IS was vastly more competent on the track, as well as on the lovely North Carolina backroads nearby. The car's great balance of performance, comfort, luxury and tech toys make it one hell of a contender in this segment.
But will these improvements sway buyers from the perennial favorite BMW 3-Series or the hot new kid on the block, the Cadillac ATS? That's the million dollar question.