Ever since the dawn of luxury sport sedan time, the BMW 3-series has been your honors student cousin at the family Thanksgiving dinner. Audi, Mercedes, and, most recently, Cadillac have all tried to beat the 3-series at its own game, but in one way or the other, they have always come up short.
Whenever a manufacturer is developing a new luxury sport sedan, you invariably see them also testing a 3-series to try and make their cars better than the benchmark. Like us, they envy, despise, and respect their competition.
For 2012, there is a new 3-series. It's bigger. It's wider. It's luxuryer. But is it still the head of the class?
(Full Disclosure: BMW wanted me to test the 335i Sport so badly that I waited patiently for it for a few months. Then they delivered it to the office and told me to enjoy it for one Earth week.)
The Audi A4 and Mercedes C-Class may be better in certain ways, but they've never really been able to beat the 3-series overall. Audi has a lovely interior, but it's plagued by understeer. The Mercedes is a looker, but the seats are rock hard and the brakes leave a lot to be desired. It's a combination of power, style, and insanely good chassis dynamics all working in concert that put the 3er above its German friends.
G/O Media may get a commission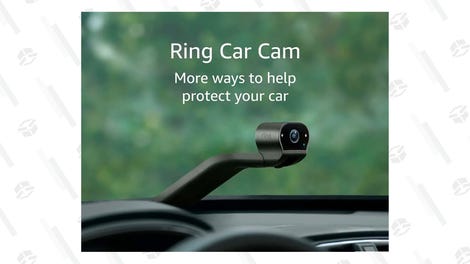 To stay at the top, you need to keep getting better and better. That's why BMW keeps making new 3ers. And with added competition from the stellar Cadillac ATS now on the scene, BMW needed to work hard to stay at the top of the heap. Did they succeed? Yes. And no.
When the E65 7-series showed its confused face to the world, the guarantee that BMWs would be universally acclaimed for their beauty went out the window. Now, I'm in the minority. I liked the controversial 5 and 7-series cars as soon as they came out. I've been seeing this new 3er on the road for months, and from the front and back, I'm still not impressed.
The front end is just far too busy. It's like someone that had a bad facelift trying to show you their "angry face." The rear lights look to be lifted straight from the 5-series. There is just such a disparity between the front and the rear that they look to be from two different cars. The good thing is that it looks decent in profile.
I just can't get over that "Joan-Rivers-seeing-someone-that's-wearing-last-season's-dress-to-an-awards-gala" scowl.


INTERIOR (8/10)
Phew. While the exterior is iffy, the interior is anything but. Leather and aluminum are everywhere, and feel great. The sport package adds an exterior colored stripe on the dash, which, in our case, was red. Not my favorite thing, but hey, a little flair never hurt anyone.
The seats are epic. Properly bolstered and comfortable, they are nearly perfect. Same goes for the wheel. It's chunky but feels just right in your hands. BMW even figured out how to make cupholders, finally. I don't really bring drinks in a car, but it's about time they had one in there. Complaints? Well, there were a few pieces of trim that felt a little cheap, and one on the bottom of the center stack even looked like it could open for storage.
It couldn't, but it should.


ACCELERATION (8/10)
With 300 bucking horsepowers and an equal amount of throbbing torques (does torque throb?) under the hood, you'd expect the 335i to be fast. Guess what? It is.
Our car, with the eight speed automatic, gets up to 60 in just 5.1 seconds. That is pretty damn fast. It's quick enough to keep up with pretty much anything on the road. Turbo lag from the 3.0 liter straight six is imperceptible and acceleration in the mid range is also strong, and that's because the car makes maximum torque over nearly the entire rev range. That is key. It may be slower than cars like the Jaguar XKR-S, but it scores higher because it doesn't feel like it's wasting any of its power while accelerating. It just flat out goes.


BRAKING (7/10)
The brakes work. And they work well. Pedal travel is a tad, possibly even a smidgen, too short for my liking, but the brakes aren't too grabby and don't result in wounded necks. In an emergency stop, I found no evidence of fade or ABS involvement. It just stops.
One peculiarity I did notice with the brakes was a spongy feeling in the first inch of pedal travel. It also made a noise that sounded like, well, it sounded a lot like a sponge being squished. With the radio on, you can't hear it, but that doesn't quite fix the problem, does it? It didn't have an effect on the braking, per se, but I did notice it.


RIDE (9/10)
One word: Sublime. It's stiff, but not too stiff. It's supple, but not too supple. The chassis, shocks, springs, sways, etc are all in concert with one another to make the 3er one comfortable ride.
But this car has a button! And that button has settings and shit! For the more technically inclined, the 335i Sport has variable damping. Put it in Comfort, it's comfortable. Put it in Sport, it's stiffer. Put it in Sport+, it's still stiff plus the traction control is taken off. Each setting actually works as you'd expect. It's a button that isn't there to make the driver think he has control, it's a button that does things.
Impressive.
Engine: 3.0L Turbocharged I6
Power: 300 HP @ 5,800 rpm / 300 LB-FT @ 1,200 - 5,000 rpm
Transmission: 8-Speed automatic (with manual shift mode)
0-60 Time: 5.1 Seconds
Top Speed: 155 MPH (limited)
Drivetrain: Rear-Wheel Drive
Curb Weight: 3,545 lbs
Seating: 5
MPG: 23 City / 33 HWY/26 Combined
MSRP: Starts at $42,000 (As tested: $55,870)
HANDLING (8/10)
The settings that effect the ride also have a profound effect on the handling, but an even bigger effect on the feel and confidence. On entry and in the middle of the corner, the 335i exhibits minor understeer. In Sport+, a jab with the right foot will break it a little loose.
In Comfort, steering is light, which is all well and good, but the fun starts in Sport. At the same time that the damping stiffens up, the steering gets noticeably heavier, you feel more connected, and it inspires a ton of confidence. The 19-inch wheels on our test car keep the car glued to the road like stink on a monkey.


GEARBOX (7/10)
So, it's not a manual, but the Steptronic eight speed auto is pretty damn good. It blips on downshifts to match revs. Shifts are fast and crisp. The paddles react at lightning speed.
But there are two little issues. First, I think eight is just too many gears. I know it's to increase fuel economy, but the car is shifting all the time. And when I'd be dive-bombing a corner, it just felt like I was downshifting far too much. Secondly, in auto mode, the box does hunt from time to time. I bet it's because it has eight different gears to choose from.


AUDIO (6/10)
The engine note isn't entirely uninspiring, but it's also not going to excite you. This is still an everyday car, so BMW couldn't make it all that raucous.
That made me have high hopes for the optional Harman Kardon sound system. I was disappointed. I adjusted the equalizer, I adjusted the volume, turned on the surround, turned off the surround, so on and so forth, nothing seemed to do it. It was not full and rich, but flat and kind of tinny. I also wasn't only listening to crappy MP3s either. I played satellite and terrestrial radio as well, to see if that was better. It wasn't. If I paid $950 for premium audio, I'd be disappointed.


TOYS (8/10)
It. Has. So. Many. Things. Nav? Yep. Satellite radio? Yes. Park assists? You betcha. Four drive modes? Uh huh. Head-up display? This isn't amateur hour. Controls on the wheel? Yeah. Push button start? I'm not sure if that's a toy, but it's there. Adjustments and displays for nearly every single setting and the ability to check the oil level without getting out of the car? Sure. iDrive? For better or worse, it's there (For the record, I've never had an issue with it, probably because I'm a *shudder* millennial).
Now, it also has a start/stop function to save fuel. Ok, no problem. You can turn it off at the touch of a button if it gets annoying. It is annoying. First off, it's not unnoticeable. There is a slight shake when it starts back up. The Fusion Hybrid's system is nearly imperceptible, and that car costs half as much as this. But here's the real issue. BMW put the button to turn it off on top of the start button. I was in stop and go traffic and wanted to turn off start/stop. I reached and touched a button, but I turned the car off instead. Whoops. Something like that is just annoying. Move the button to the center console. Problem solved.


VALUE (6/10)
The 335i starts at $42,000. That's a good deal. Want one equipped as dandily as our 335i Sport? Be ready to fork over $56,000. You may have fallen over from reading that, so I'll type it again. $56,000.
You can get a Camaro ZL1 for that. Granted, they're totally different cars, but it's just amazing how much more you can get than a 335i for this money.
I love the 335i. It drives great. It's comfortable. It's what a sports sedan should be. But I'm just not sure that it's worth 56,000 American dollars. And compared to the newest kid on the block, the Cadillac ATS, the 335i beats it in some categories, and loses in others. It seems BMW finally has some company at the top of the class.
73/100
EXTERIOR (6/10)
INTERIOR (8/10)
ACCELERATION (8/10)
BRAKING (7/10)
RIDE (9/10)
HANDLING (8/10)
GEARBOX (7/10)
AUDIO (6/10)
TOYS (8/10)
VALUE (6/10)
BMW 335i Sport Line