We've just found the world's smallest Ferrari key. What's it ignite? How about one of the world's most excruciatingly detailed 1/8-scale miniature hand-built Ferrari F40s? Check out the mega-gallery of master craftsmanship below.
A highly trained model enthusiast member of the Model Brouwers.nl forum has managed to make us feel like smaller, weaker men than we actually are by carefully assembling this 515 piece Pocher 1/8 scale miniature Ferrari F40. Not content with realism that the Pocher kit provides, he cranked the dial to eleven by including a 1500 piece photo-etched Autograph transkit into the mix.
For a nice cross reference to an actual, full-scale Ferrari F40 build, check out our Supercar Teardown where we get a sneak peek at the rebuild of a Ferrari F40 LM racer.
[ModelBrouwers.nl via TCL]
G/O Media may get a commission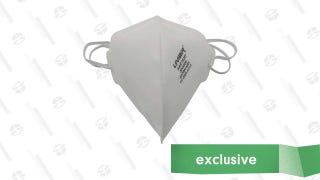 NIOSH CDC-Certified N95 Masks (10-Pack)