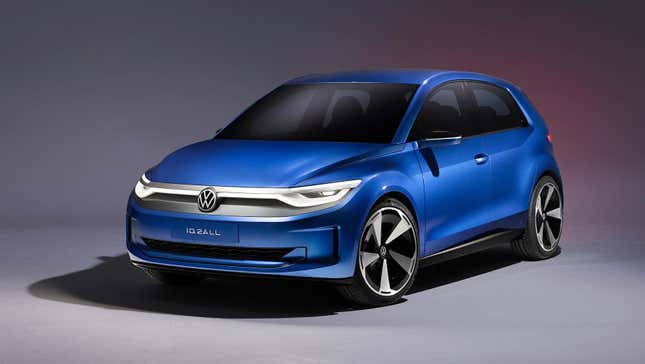 Volkswagen's latest project isn't a car – it's a mine for EV battery cell materials. Reuters reports that the German company is planning to invest in mines to bring down the cost of battery production. This would obviously benefit VW in making its own EVs, but the company would also like to sell these materials to third-party customers, such as other automakers. The outlet says this move is in line with a wider trend of car companies wanting greater control over their supply chains.
This NYC Garage Takes Vanlife To The Next Level | Jalopnik Visits
In case you missed it:
"The bottleneck for raw materials is mining capacity – that's why we need to invest in mines directly," Thomas Schmall, Volkswagen's board member in charge of technology, told Reuters.
VW reportedly wants its in-house battery unit – called PowerCo – to become a global battery supplier with plants mostly in Europe and North America, Schumann said. In fact, PowerCo will soon start delivering cells to Ford for the 1.2 million EVs it plans to build in Europe on VW's MEB platform.
The automaker recently laid out its five-year, $191.5 billion spending plan. In it, VW has reportedly earmarked nearly $16 billion for its three announced battery plants and some raw materials sourcing.
Volkswagen is said to be partnering with mining companies based in Canada – the country where it has chosen to build its first North American battery plant. Analysts believe this partnership could cut years off of mining development times for junior minors.

"In [the] future, there will be a select number of battery standards," Schmall told the outlet. "Through our large volume and third-party sales business, we want to be one of those standards."
Right now, only Tesla has pledged to invest more into battery production than Volkswagen, according to Reuters. That being said, Tesla is having some issues ramping up battery production, and it is now recruiting Asian suppliers to help out.
PowerCo, which was first set up in 2022, is said to be targeting more than $20 billion in annual sales by the end of the decade. Reuters says production will start in 2025 at its plant in Salzgitter, Germany; 2026 in Valencia, Spain; and 2027 in Ontario, Canada.
"Bringing down battery costs further is a challenger," Schmall told Reuters. "We're using all the instruments with PowerCo."